St. Patrick's Day Preschool Facts for Teachers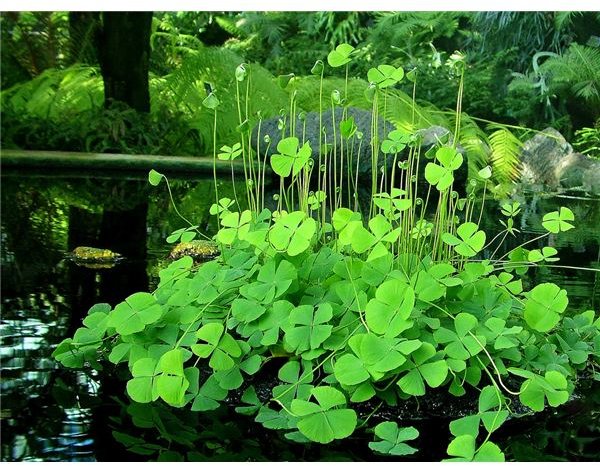 Why Celebrate St. Patrick's Day on March 17th?
These St. Patrick's Day preschool facts are basic, and easy to build a theme around. If you need some background information, or just want to sharpen your knowledge of St. Patrick's Day, these fun facts will get you started.
Why is it that we celebrate St. Patrick's Day on March 17th, anyway? It turns out that was the day St. Patrick died. He was born in 385 AD and died on March 17, 460 AD. Born in the Welsh town of Banwen, St. Patrick was actually from Britain. He wasn't even Irish, believe it or not!
The first St. Patrick's Day Parade was in Boston, not Ireland, in 1737. Your preschoolers might enjoy having a parade to display their "wearing of the green" on St. Patrick's Day.
No Snakes in Ireland
St. Patrick was said to have driven out all the snakes from Ireland. To this day, there are no snakes on the Emerald Isle, but it turns out that snakes have never been indigenous to Ireland, due to the cold waters that surround the island. Since snakes are cold-blooded creatures, they could never make the swim! Many people say that St. Patrick drove out pagan influences, and therefore, the word "snakes" was symbolic.
Leprechauns
Leprechauns are a part of old Irish legend. They are said to be shoemakers. Irish legends say that if you spot a leprechaun, he will have to tell you where his pot of gold can be found. There are many fables surrounding these playful, mythical creatures. Share one with your preschoolers and watch how delighted they become!
Wearing Green
People wear green on St. Patrick's Day. This is because the color green is Ireland's national color. Ireland is known as the Emerald Isle because of the rich, green landscapes, brought about by frequent rains.
Use St. Patrick's Day as an opportunity to teach the following concepts surrounding the color green:
Rain makes the grass green, like the fields in Ireland.

We wear the color green to celebrate St. Patrick's Day.

Common items that are usually green: grass, leaves, caterpillars
Irish Foods
Traditional Irish foods are a great way to celebrate St. Patrick's Day. Why not make one of the foods below with your class as a cooking activity?
Corned Beef and Cabbage: One of the most popular traditional Irish meals.

Irish Soda Bread: a traditional Irish bread made using baking soda instead of yeast as a rising agent.

Potatoes: Teach preschoolers that potatoes were a staple food in Ireland, and that when food was scarce, the Irish people mostly lived on them. This was a time when many Irish people decided to move to the United States.

Irish Stew: This is a stew made from mutton or beef, carrots, potatoes, and onions, cooked in a thick gravy.
Shamrocks
Legend says that St. Patrick used the shamrock to explain the "Holy Trinity" to the Irish people during his teachings. The Holy Trinity is the concept of Father, Son, and Holy Spirit: three separate entities forming one God.
Preschoolers can be taught what a shamrock is, and that St. Patrick used them in his teachings. It is the teacher's choice as far as how much of the religious aspects should be covered in the classroom. Christian preschool teachers can use this opportunity to talk about the Holy Trinity, while secular preschool teachers may decide to just identify the shamrock and tell that it was used in St. Patrick's teachings.
Keep St. Patrick's Day preschool facts simple and relevant to a preschool age child, and this can be a fun, informative theme to celebrate with your little ones. They may not be ready for in depth tales about St. Patrick and his experiences and travels, but you can be sure they'll love learning about the color green, rainbows, shamrocks, as well as trying out some new Irish cuisine. Hope your St. Patrick's Day celebration is one to remember!
References
Photo by kkmarais under CC BY 2.0 via Flickr
This post is part of the series: Everything St. Patrick's for Preschool
Find everything you need to celebrate St. Patrick's day in the preschool classroom. From facts, to lessons, to crafts, we have made planning for St. Patrick's Day easy!