3 Activities For a Presschool Lesson on Snow Including a Classroom Treat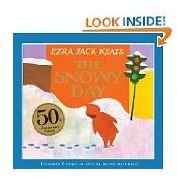 Kids love snow, and there are so many fun activities they can do. This snow lesson plan for preschool will help you teach children about the most wonderful parts of a snowy day.
This is the perfect way to help your students explore the activities that they can do in the snow. It also helps them use language and movement to express themselves about a topic they enjoy.
This lesson plan is even appropriate for days before the first snowfall.
The Snowy Day
Read the classic book, "A Snowy Day," by Ezra Jack Keats. This book is about a young boy who wakes up one morning and sees snow
outside. It walks though a very typical snow day in the life of a young boy living in the city. As you read, have students point out the different activities the young boy, Peter, does that have to do with snow. For example, they might point out that he makes snow tracks, builds a snowman, and slides down snowy mountains. If you'd like, you can make a list on the board, possibly using sentence strips.
Music and Movement
Put on some instrumental music, and tell students to follow you in pretending to do various activities that they might try on a snowy day. Mime the following activities with them:
Getting dressed for a snowy day
Walking through deep snow
Building a snowman
Having a snowball fight
Sledding down a hill
Making snow angels
Rolling down a snowy hill
Changing out of snowsuits
Having a hot drink in the kitchen to warm up again
I Like To…
Have children think about the different activities that you've discussed and acted out so far today. Have each child choose a favorite snow activity and draw a picture of it. Then label the activities with the sentence frame "I like to…" and help children complete the sentence. Reinforce the learning of the words, I, like, and to. When the students are finished, have them point to the three words.
Snow Ices
As a fun end to this preschoolers' snow lesson plan, help students use foam cups to scoop crushed ice out of a large bowl. Add a bit of apple juice to each cup to make "snow ices," and let your little snow angels enjoy their healthy treats!
This post is part of the series: Winter Lesson Plans for Preschool
Looking for some fun ways to bring the winter season into the classroom? These winter lesson plans for preschool are the perfect answer.