Talk About David and Goliath
Take a few minutes to discuss the Bible story of David defeating the Philistine giant with the kids. It lends itself to a variety of life lessons such as 'You don't have to be big to accomplish great things,' 'God uses young people, too,' and 'God will help you defeat the giants you face.'
Prepare the Five Stones
To create the Five Stones crafts project for preschool children, the following items are needed: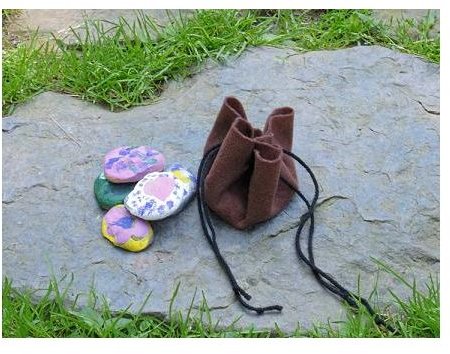 Washable paint
Paintbrushes
Small round stones (five per child)
Newspaper
Painting smocks
1. Take the children outside to gather their own stones. Have each child select five small round stones.
2. Wash off any debris on the stones and allow them to dry while the painting area is being set up.
3. Spread out newspaper on the work surface and help the children into their painting smocks.
4. Allow the kids to paint the tops and sides of the stones with any color or design they choose. Encourage them to use their creativity to decorate unique stones.
5. Place the stones in a safe place to dry and have the children move on to create the carrying pouch craft.
Teacher Preparation for the Pouch Craft
To prepare for the crafts project ahead of time, pre-cut an 8-inch circle out of lightweight felt (brown or black) for each child. Use a hole punch to cut out eight evenly spaced holes around the circumference of each circle. Punch the holes about ¾ of an inch from the edge. Also, cut a piece of string approximately 2' long for each pouch.
How to Make the Pouch Craft
To create this David and Goliath craft for preschool children, the following items are needed: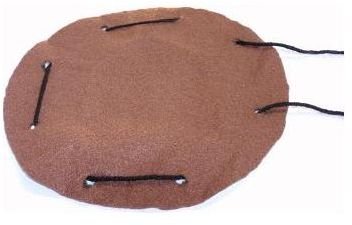 1 Circle (8") of brown or black felt
2 strands of yarn or lacing (approximately 16″ long)
5 Small, round stones
Washable paint
Newspaper
1. Lay the circle flat and show the child how to weave a piece of string into the first hole. Continue the process of weaving in and out all the way around the circle until the two sections meet.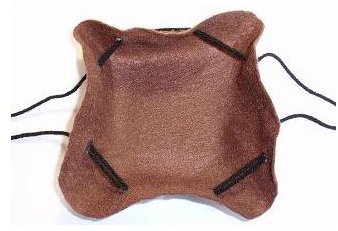 2. Help the child repeat the same process with the other piece of string. Start from the opposite side of the circle and weave back into the same holes again.
3. Tie the ends of each side together to form a draw string.
4. Once the five stones are decorated and dry, place them in the center of the pouch and pull the strings to close it.
Learn about other bible lessons for children to use along with these David and Goliath crafts for preschoolers.
This post is part of the series: David and Goliath for Preschoolers
This series provides fun ideas for teaching children about the Bible story of David and Goliath.