Make Circle Time Great: A Collection of Creative Preschool Ideas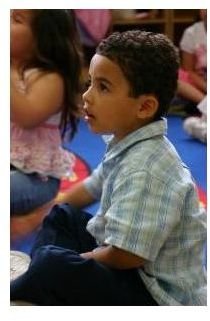 Circle time is a great time to start your morning. Almost all preschools utilize this time to gather their students in group and do activities together. This is part of a daily routine where students come to the carpet and do fun activities such as learning about the calendar, singing songs, learning about the weather, listening to music, or learning anything you want to teach them.
Circle time activities are a way to engage your students altogether as a whole in group activities or discussions. This is a time of the day where students can feel comfortable asking and answering questions while in a relaxing but educational setting.
Use these authoritative resources below as a guide to help inspire you with circle time ideas or add them to your daily routine. You will discover fun ideas, lessons and activities that will captivate your preschoolers.
Preschool Circle Time: Start Your Day with a Routine
Are you looking for some great ideas on how to start your day? Learn fun ideas and activities that you can incorporate into your daily routine. You will discover ideas such as learning students' names, creating a bulletin board, singing music, reading stories and much, much more.
Preschool Circle Time Ideas for Seasons
Circle time is the perfect time to teach your preschoolers about seasons. Learn creative ideas to teach the seasons by learning the different ways children learn such as the social child, the creative child, the thinking child and the active child. You will learn how to teach the seasons for each specific style.
Preschool Games for Circle Time
Are you looking for circle time games that will keep your preschoolers' attention and keep them on the carpet? After sitting in their seats all day, children need to get up and get those wiggles out. Discover fun games and songs that will get your students up, moving and interacting with one another. These ideas are sure to be a hit with your little ones.
Circle Time Ideas for a Family Theme
Preschoolers love to talk about what they know: their family. Discover great ideas and activities on how to talk about families with your students. You will learn what to say, which books to read, the songs to sing and much more.
Preschool Music CD's for Circle Time
Preschoolers love to listen to music, sing songs, and dance to music. What better time to do music related activities than at circle time? This is the time when children are in a comfortable setting on the carpet and you have their undivided attention. Learn which CDs are the best to use during this time of day.
It's Circle Time Under the Sea!
Are you teaching your preschoolers an under the sea unit? Circle time is a great opportunity to educate your students about this wonderful topic. Learn activities such as a treasure hunt, under the sea circle time, and sea shapes. Discover songs about fish and learn some creative ideas that will keep your kids wanting to learn more.
Incorporate a Farm Theme into Your Circle Time
When teaching preschoolers a farm theme, circle time is a great time to gather students together and teach fun farm activities. Explore games, songs and stories that will get your students singing, moving and talking about farms. You will find a weekly guide on how to incorporate these fun activities into circle time.
Simple Preschool Transition Activities
Teachers are always looking for ways to make transition run smoothly. Learn how to incorporate circle time activities into transition periods throughout the day. You will learn fun songs to sing like, "It's Time to Sit on the Rug" and "The Goodbye Song" and activities to do on the carpet for the moments that are in-between lessons. Find out this and much more.
Circle Time Idea for Kinesthetic Preschool Learners
Are you looking for ideas on what to do at circle time for your kinesthetic learners? Sitting quietly during circle time can be torture for this type of learner. Gain ideas and insight on how to get your kinesthetic learners moving during circle time. Here is what you need to know to get started.
Interactive Reading Activities for Preschool Students
Learn tips and tricks to make circle time fun! Discover tips on interactive reading methods that will get your students encouraged to read. Explore five creative ways that will keep your students engaged on the carpet. These interactive reading methods are an excellent way to incorporate into your circle time.
Dressing for Spring Activities: A Weather Preschool Lesson
Learning about the weather during circle time is a preschool favorite. This is a time when children can sit with their friends and interact with lesson. Learn about fun ideas and activities to teach the weather during your morning routine. Preschoolers will love dressing up for the appropriate weather.
Leaves, Leaves and More Leaves!
Fall is beautiful time of year. Children can go outdoors, pick up colorful leaves, and use them in educational activities. Here we will show you which songs to sing during circle time, a leaf fingerplay poem, a math activity that incorporates leaves and, much more. Preschoolers will use their fine motor skills to create art projects and their cognitive skills to sing songs and recite poems.
Utilize this collection of articles on preschool circle time and keep it on hand to help inspire you or as a guide. All of these ideas and activities will be sure to delight all of your students.
Do you have a question or comment you would like to share on this article or any of the above articles? Please take a moment to share your thoughts. We welcome your feedback and would love to hear what you have to say.
References