Preschool Music Circle Time: CDs With Classic Kids' Songs

Circle Time: Songs and Rhymes For the Very Young
Circle Time: Songs and Rhymes For the Very Young by Lisa Monet is our first choice for a preschool music circle-time CD. Having used this
CD personally, this writer finds it to be a soft, soothing CD that is both enjoyable and peaceful to both the teacher and the preschooler. The song list includes favorites such as "Baa Baa Black Sheep" and the educational "ABC" song. This is a good CD for circle time because it can be used first thing in the morning or before nap time. You can buy it at Barnes and Noble or Amazon for less than $10.
Preschool Aerobic Fun

Want to get moving during circle time? An excellent choice for this purpose involves a lot of kinesthetics and exercising with the Preschool Aerobic Fun, a CD by Georgiana Stewart. This CD is great because it has easy-to-follow instructions that get young children moving. They learn to do basics including a warm-up and even complete their routine with a cooling-down period. The song list is great fun with choices such as "Bunny Hop," "The Farmer in the Dell" and "Chug-Along Choo-Choo". This CD is sold at Barnes and Noble or Amazon.com for around $13, making it an affordable choice.
We All Live Together, Volume 2
We All Live Together Volume 2 is another personal favorite because it is great to listen to and easy for preschoolers to follow. On this

CD by the popular Greg and Steve songs that are featured include "Listen and Move" and "The Muffin Man" as well as "Months of the Year" in both English and Spanish. This CD is also great for personal use in a home where there are small children as it is a great motivator to get kids up and moving. The CD is sold at Barnes and Noble for about $12 or as an audiocasette at Amazon for $4.
30 Preschool Songs
30 Preschool Songs is an excellent preschool music time CD for those who are shopping on a budget. Sold at BestBuy.com (image not available) this CD is only $4.99 and full of songs preschoolers will love. The song list includes instructional songs that are fun to follow. These songs cover everything from teaching toddlers to get dressed properly to learning about both long and short vowels. With over an hour of music, it is an easy way to keep preschoolers busy and learning.
Baby Genius Preschool Favorites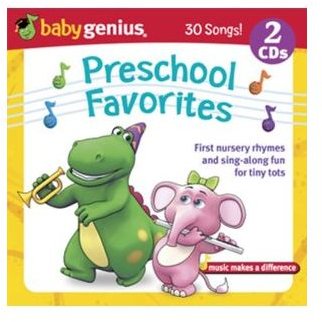 Baby Genuis has become a hit seller with their educational DVDs and toys as well as a two-CD set of preschool songs. The Baby Genius Preschool Favorites CD set is a fantastic addition for any preschool setting. Sold at Walmart.com for only $6 these CDs include over 25 songs with titles such as "Jimmy Cracked Corn," "Old Macdonald," "Wheels on the Bus" and "Do Your Ears Hang Low". This is a good choice for a preschool music circle time CD because it includes many of the classics including sing-along favorites so that kids will enjoy participating.
Sources
Sources Cited: My own research, Walmart.com, BestBuy.com and Amazon.com