Circle Time Discussion: Let's Talk Turkey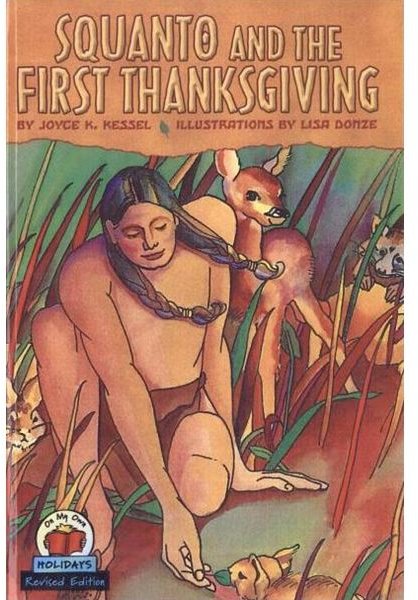 Elaborate these facts in your own words:
Wild turkeys were were native to North America long before Pilgrims came.
The Native Americans used the turkeys for food and clothing.
Native Americans taught Pilgrims to hunt.
Read, Squanto And The First Thanksgiving by Joyce Kessel.
Discuss the events in the story.
Gather Materials
This is a list of things that you will need to present this lesson to its fullest capacity:
Coffee filters
Crayons
Photos of turkeys
Turkey calls
Art: Make Turkey Sun Catchers
Provide each child with a coffee filter.
To create colorful feathers, instruct each child to color the coffee filter with markers.
Instruct the children to fold the colored coffee filter in half, four times (quarters).
Immerse the point of the folded filter into a bowl of water. The water will seep upward, bleeding the colors.
Unfold the filter and set it aside to dry.
While the colored filters are drying, cut a turkey body from a piece of brown construction paper.
Glue the dried filter on to the body of the turkey. Adhere wiggle eyes and a beak.
Display the sun catchers in a window.
Math Skills: Turkey Tango
Create two sets of pre-cut turkeys.
On one set, write numbers 0-9, and on the other set, write numbers 1-9.
Say a two-digit number, then instruct one child at a time to combine two turkeys to form the number.
Language Skills
Make a list of turkey and Thanksgiving words.
When the list is complete, create a short Thanksgiving story using the listed words.
Songs
Look Out Mr. Turkey
(to the tune of "I'm A Little Teapot")
Look out, Mr. Turkey.
We've made you nice and fat.
You're going to be our dinner,
Now what do you think of that?
We Are Thankful
(to the tune of "Are You Sleeping")
We are thankful, we are thankful,
For our food, for our food,
Many years ago the Pilgrims landed,
They were thankful too,
They were thankful too.
This post is part of the series: Kindergarten Harvest Lesson Plans: Turkeys
This is a series of harvest lesson plans designed for the kindergarten classroom. In this portion of the series, the children will learn about turkeys. The lesson is presented by activites, math and language skills, as well as art projects.