Sweet Valentine's Day Activities for Young Children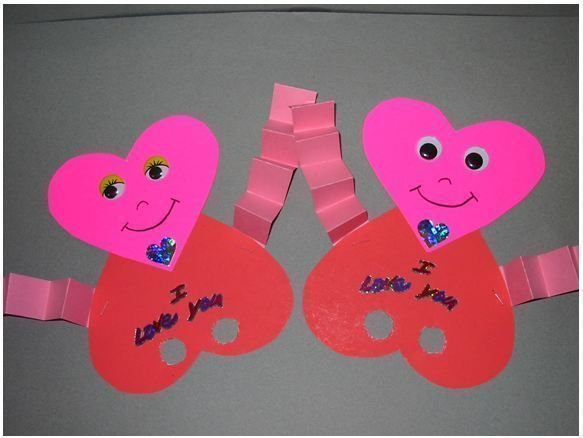 Little Puppet, Will You Be My Valentine?
Puppets are universally appealing to young children. They are approachable, interesting and funny. There is a wide variety of beautiful commercial puppets available, however, homemade puppets work just as well and can have more "personality."
You can make this valentine puppet and it can come alive in a creative way. Cut out a 3-inch paper heart and a 1-inch paper heart from red (or pink) poster board. Make two finger holes in the top of the large heart. Draw a face on the smaller one. Overlap pointed ends of the hearts and glue these together. Accordion-fold strips of paper and glue these to the heart for arms. Place your fingers inside the holes and manipulate this heart puppet. Make up a story together about this valentine puppet or sing a favorite song.
Conversation Heart Activities
Conversation Hearts, those little heart-shaped candies with messages on them, were first made by NECCO in 1902. The messages on the candies may have changed over the years, but kids still love them. They're not only yummy, they're fun! For a game, hide several dozen hearts around the room. Give children small paper bags and have them decorate them with markers and scraps of ribbon and lace. Then set out on a hunt! Half the fun will be reading the messages on the hearts after the kids collect them. Alternatively, you may assign different point values for the different colored hearts. Sorting the hearts and adding up the points will be a good math exercise.
Make a "special handprint" project using conversation hearts as gifts. Type or have the student print this poem on a sheet of paper. On a heavy sheet of construction paper (or poster board) trace the child's handprint or use paint to make a print. Write his/her name and date next to the handprint. Now, invite each child to glue on conversation heart candies as fingernails. Proceed to attach the poem paper to the cardboard print with glue (trim it to size if necessary). This makes a memorable gift to give to family and friends.
THIS ISN'T JUST ANY HANDPRINT AS YOU CAN PLAINLY SEE.
FOR IT IS A SPECIAL HANDPRINT MADE WITH LOVE BY ME.
ALONG WITH THIS HANDPRINT I SEND HUGS AND KISSES YOUR WAY.
AND WISH YOU A VERY "HAPPY VALENTINE'S DAY."
Sweet Treats
Edible Valentine Cards:
You will need:
Graham Crackers
Vanilla Frosting (or any flavor you wish)
Candy Conversation Hearts
Use the graham cracker as the base of the edible card. Invite the kids to spread the frosting (peanut butter or cream cheese as variations) and stick the candy on top. Enjoy reading the messages before devouring this sweet treat. It's a great project to do for play dates, classmates at preschool, and parties.
Think "pink" for creative valentine food ideas. What a way to make snacks or meals fun for your students! A drop of red food coloring can turn a child's breakfast cereal swimming in a pink pool, pink applesauce for snack or vanilla pudding turns a pretty shade of pink for dessert.
These are only a few Valentine ideas for this holiday. Find more fun on Bright Hub Education.
Share the Love: Valentine's Day Activities For Preschoolers
You've Got Mail: Valentine Mailbox Play For Preschool
References
Valentine poem, author unknown – found on this blog site, KaseyTrenum.com
Photos by Tania Cowling, all rights reserved
Personal Experience in the classroom and home