Teen Involvement: Participation in Extracurricular Activities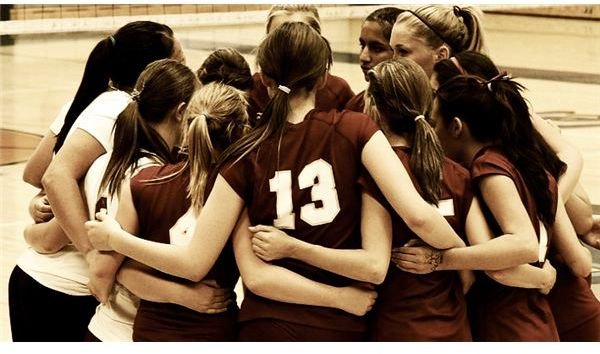 Lifelong Benefits
Young children involved in groups have the chance to increase their self-esteem and support their educational foundation. Early childhood
participation results in exposure to new ideas, places and people. Fletcher and colleagues, researchers featured in the Journal of Community Psychology, found that elementary-aged children who participate in structured leisure activities seem to experience greater psychosocial development and academic competence than do their less involved peers. Their findings also suggested that children who were more involved in club activities during middle childhood received higher academic grades and were rated by their teachers as higher in academic competence.
The benefits of extracurricular involvement develop along with the child. It's not too late when participation begins in teenage years; in fact most positive outcomes have been found to be stronger for older youth including middle and high school students. This is not to say that those involved during early childhood do not benefit throughout their participation.
Fredricks and Eccles (2006) found that youth participating for more years and in a wider range of extracurricular activities were generally related to having a higher proportion of academic peers and a smaller proportion of risky peers than individuals who were not involved in structured activities. They summarized their findings by saying that extracurricular activities provide a context for youth to use their leisure time in productive ways, connect to supportive adults and peers, and learn competencies and skills that can transfer to other settings to facilitate well-being in the present and future. Extracurricular participation requires effort and interest, bringing people with common goals together to help each other collectively and individually.
Photo by Originality Since 1994
Teen Specific
Identity formation and group cohesion are of critical importance to teenagers. Academic and social experiences are dramatically influenced by the ease in which teens can work with and relate to others.
Mahoney, author of "School Extracurricular Activity Participation as a Moderator in the Development of Antisocial Patterns," found that individuals who became involved in school extracurricular activities were less likely to drop out of school as adolescents or become arrested as young adults.
The study conducted by Fredricks and Eccles, "Extracurricular Involvement and Adolescent Adjustment: Impact of Duration, Number of Activities, and Breadth of Participation," reflected that greater participation in extracurricular activities for the oldest group of studied adolescents was predictive of academic adjustment and heightened psychosocial competencies due to developmental differences and changes in the nature of activity participation. As previously mentioned, activities mature along with the interests, abilities and goals of participants.
The teenage years can be associated with resistance and antisocial behaviors. Participation in extracurricular activities at school has the potential to make a profound impression in the lives of vulnerable youth. Mahoney (2000) said that participation continues to have an associated positive influence beyond the years of formal schooling and that those at highest risk for persistent antisocial behavior found simultaneous participation of their peer social network in school activities to be critical in the associated reduction of antisocial patterns across development.
Teams, groups and clubs create opportunities for the connection of peers from a variety of backgrounds and associations. The bonds created strengthen the support systems of impressionable youth and bolster confidence in social interactions. Mahoney examined, "School Extracurricular Activity Participation as a Moderator in the Development of Antisocial Patterns," and found effective youth programs to be highly organized and structured, with regular meetings that emphasize on increasingly complex skill building as an activity goal led by one or more competent adults. This setting ascertains stability with the promotion of progress as a collective unit. For teenagers, the group process can create confidence and trust in others during a time of life that challenges intimacy and faith.
Image by Joe Shlabotnik
Number and Uniqueness of Activities
The beneficial outcomes of extracurricular involvement are influenced by the number and variety of activities. The total number of extracurricular activities is positively associated with school belonging, psychological resilience, academic peers and negatively associated to psychological distress, and risky peers. Variety in activity experiences also helps a teenager to develop a well rounded self with multiple capabilities.
Fredricks and Eccles (2006) said that individuals who commit all of their resources to one particular activity are less able to cope with stressful events that occur in that domain than are individuals who choose to invest their time and energies across a range of contexts. This acquired flexibility can transfer outside of the group process and help the teen to feel confident and resilient. A greater variety in activity allows for increased personal growth.
Consistency of Participation
Participation cannot be laissez-faire if it is to be of maximum benefit potential. Consistent involvement and dedication promote the development of responsibility and belonging. Teenagers can especially benefit from committed participation because of the challenges and temptations they face. Fredricks and Eccles (2006) said that the more time in an activity context should be related to a greater absorption of experiences associated with that environment and less time in either unsupervised risky activities or unproductive activities, both of which have been linked to less positive developmental outcomes during adolescence.
Consistency of honest participation requires that the teenager is truly engaged in the group process and this cannot be forged. Rather than forcing participation, it is better to allow a teenager to explore a variety of activity options, giving them the sense of freedom, choice and responsibility that they crave.
References
Fletcher, A., Nickersan, P., & Wright, K. (2003, November). Structured leisure activities in middle childhood: Links to well-being. Journal of Community Psychology, 31(6), 641.
Fredricks, J., & Eccles, J. (2006). Extracurricular Involvement and Adolescent Adjustment: Impact of Duration, Number of Activities, and Breadth of Participation. Applied Developmental Science, 10(3), 132-146.
Mahoney, J. (2000, March). School Extracurricular Activity Participation as a Moderator in the Development of Antisocial Patterns. Child Development, 71(2), 502.