Finding Just-Right Books for Beginning Readers: Children's Book Selection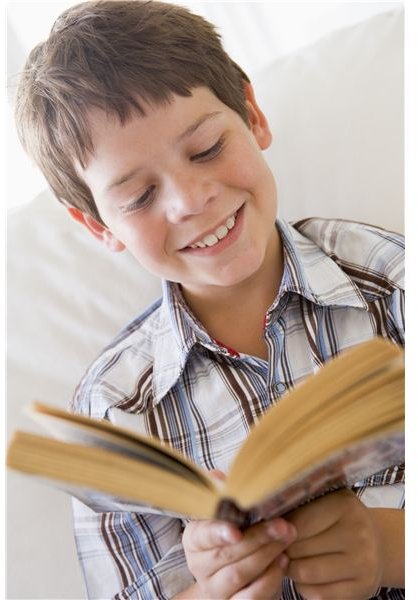 Beginning Reading
When children begin to read independently, basic reading skills must be practiced both in and out of the classroom. Parents can use
these tips to learn more about age appropriate books for independent reading.
Where you begin depends on the ability and not the age of your child. Students mature at different rates when beginning reading. So, let's look at how to pick out books and then where to find books.
Tips for Book Selection
1. Book Choice - First you want to pick a book to practice independent reading that is a "just-right book." A just-right book is not too easy and not too hard for the child to read. It is the place where your child is challenged to learn in the book, but is not bored with it, nor frustrated either. Giving a new reader a book that is too difficult to read will only serve to diminish confidence. How you can tell if a book is too easy or too hard? If the student "flies" through the reading or, on the contrary, if he or she struggles every few words and wants to give up, then the book choice is not just right. Also, your child should be able to tell you what the story was about in one or two sentences. If he or she cannot, then the reading was not comprehended.
2. Book Selection - Just-right books at the beginner reading stage will come at different levels. Depending upon the publisher they may be labeled pre-reader, beginner, intermediate, or advanced, by level one, two or three, or sometimes even by A, B, or C. In any form, the levels are increasingly more challenging as they rise. If students are independently reading in the classroom, then ask the teacher what he/she recommends for the reading level. Later in this series we take a closer look at each level.
Finding Just-Right Books on a Budget
We all know that children can grow out of a reading level as fast as they do shoes. If you or your school is on a budget, then try these resources:
Online Books - The following websites to find online readers are provided in alphabetical order.
Kindersite.org - (Prekindergarten through elementary)- This website provides a coglomerate of readers online from all over the website. It's nice to have all of the books in one place, but some of the selections are better than others.
Lil' Fingers - This is a superb website with online storybooks for beginning readers to learn basic sentence structure and sight words. The animation matches the action in the sentence which is great.
Nellie Edge - I like this website for the printable storybooks in PDF files. It's a great resource for teaching beginning readers.
Starfall - This is a website for both online practice and books to download and print. The language is simple for beginning readers.
One of the best, Zaner-Bloser has free online leveled books by grade.
Local Library- often allows you to check out and download children's books to read on your computer. Contact your library's website for details.
Make Books - With any word processor and clip art, you can create your own books for beginning readers. For example, type one sentence per page, I see a book (have a picture of one book); I see a penguin (a picture of one penguin) and so on. Use your imagination! This is my mom (a picture of mom); this is my cat and so on. Just remember, not too easy or not too hard. For a very early reader, one line per page is appropriate. Keep the same pattern on each page (for example, I see a). Or you can always buy a reproducible book of little readers (also available at Amazon).
Trade with Friends/Classmates - Other parents in the classroom may agree that a book exchange is a great way to keep kids reading and money in wallets!
Borrow from a Teacher - Be sure to return them in the same condition in which you received them. Books are a teacher's treasure.
Shopping for Books
Here is a list of beginning reader publishers, but there are many more. If you have more selections, please feel free to share with us all in the comment section below. Probably the most economical place to shop is online at Amazon:
Green Light Readers
Scholastic Reader
Bob Books Fun
A Rookie Reader
Houghton Mifflin Leveled Readers
Read on in the series about just right books to learn how to help a student advance to the next level of reading in the just right books. You can also find more information about the best ways to read to your child. Mostly, have fun. Learning to read is important, but should not be stressful for the child.
References
Article is written from Laurie Patsalides' teaching experience.
Another great resource: How to Pick a Just Right Book, by Mrs. Cinco. This is written for the student.
This post is part of the series: Reading Guide for Parents
In this series, we are taking a close look at book selection, and reading at home with children.