Choral Risers and Other Choral Concert Equipment Needed for Success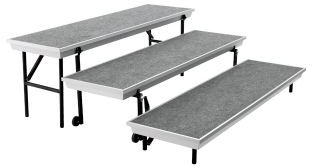 Choral Concert Equipment
When setting up for a school choral concert, you will most likely need the following equipment:
Choral Risers-They are not absolutely necessary but they will help with sound projection and the audience will be able to see the singers better. It will make them seem more like an organized group (in rows of course) rather then a giant cluster that is hard to see. Note: You will want to rehearse on them at least a few times for it is not unusual for a student to fall off one at some point.

Microphones-You will want to have a few hand-held/stand microphones and if possible a body mic (for soloists) available to use during the show. If you are limited in the sound augmentation department, then make sure you teach your students how to project their voices and use the natural acoustics of the room to help(if you are so lucky). Just make sure they are not too close to any accompanying speakers or you will get some massive feedback.

Speakers-You may have a built-in sound system with speakers or you may need to bring portable ones. Strategically place them so they act as a surround sound for your chorus.

CD Player (or Tape Player if you still use one)-You will need this if you have the instrumental accompaniment for the concert on a CD. Make sure it runs smoothly and you may want to have a backup one in case there is a mechanical failure. I have had to use 2 CD players at one concert performance in the past.

Concert CD(s)-Make sure if you are using an instrumental accompaniment CD that you have many copies for backup! CD's are very sensitive in certain players and can easily get scratched or dirty. You can never be too prepared here.

Piano, Keyboard or Guitar-In case your CD's and player do not work. You may also use these in place of recorded music and to show off student talent as well.

Music Stand(s)-These could be for soloists, for the conductor, or even to hold programs. They are entirely optional.

Index Cards-I use these in case my chorus forgets some difficult words and the audience cannot see them. You can also use them as student speech cards for introducing songs to the audience.

Props or Instruments-If you need these for your performance, make sure you have a few adult volunteers help you pass them out to your singers. I store all my props in labeled boxes so they are ready to go for concert time.
Proper concert equipment and preparation can prevent a choral performance nightmare and will ensure a great school choral concert instead! Good luck!
This post is part of the series: Beginning An Elementary Chorus
If you are a new Vocal Music teacher or have recently switched to teaching Vocal Music, this series will give you information on how to establish and maintain a Chorus. The articles discuss using good communication skills, preparation tactics, rehearsal techniques, and equipment setup.