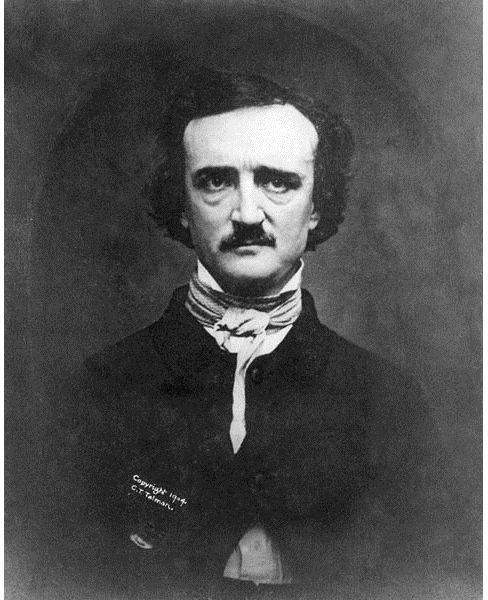 It is impossible to say how first the idea entered my brain, but, once conceived, it haunted me day and night. Object there was none. Passion there was none. I loved my first period class. They had never wronged me. They had never given me insult. For their behavior I had no problem. I think it was their low grades!
Yes, it was this! Some of their grades resembled that of a vulture — a pale blue 'F' with a film over it. Whenever I wrote the 'F' my blood ran cold, and so by degrees, very gradually, I made up my mind to improve the grades of my first period class with an Edgar Allan Poe lesson that would incorporate a webquest with questions, and thus rid the class of 'Fs' forever.
Avoid a Descent into the Internet Maelstrom
The Edgar Allan Poe webquest as part of your lesson plan can be answered at the following four sites:
The Edgar Allan Poe Museum Website: The main purpose of the site is to promote the museum. Fans of Poe, however, can find biographical information, a family tree of Poe, theories about his death, selected works, educational resources, and an online store. The site makes certain all information is credible and accurate.
The Edgar Allan Poe Society of Baltimore Website: Don't let the poor web design and subpar formatting deter you from the site. It's full of useful biographical information, studies of his writings, and copies of his short stories and poems. The site's main goal is to promote the Poe Society of Baltimore.
Poestories.com: This is the Edgar Allan Poe of Edgar Allan Poe websites. In addition to biographical information, his complete short stories and poems, and a timeline of his writing, Poestories.com contains a photo gallery, quotes, summaries, wordlists, guestbook, links, and a forum. It is the most thorough of all Poe websites.
The Knowing Poe Website: This is the most fun for students. In fact, I spent the last 25 minutes looking at videos and listening to audio versions of "The Raven," reading about the Poe Toaster, and checking out Edgar Allan Poe every day allusions. The site includes an excellent section for teachers with internet activities and lesson plans, and a section for parents to share Poe with their families.
Webquest Questions
Provide the following biographical information: birthdate; birthplace; death date.
What tragic childhood events influenced his writing?
There are 13 theories on what caused Poe's death. List five of them.
According to the Edgar Allan Poe Museum, what state did Poe call home?
What does the Poe Society of Baltimore think about this claim?
What famous military academy expelled Poe in 1831?
Who did Poe marry? How old was she?
What do you think about the marriage?
What is "Murders in the Rue Morgue" the first of?
When were "The Tell-Tale Heart" and "The Black Cat" written?
When was "The Raven" published?
Check out the Poe photo gallery. Which picture looks most like the Poe you envision while reading his stories?
Post a comment in the Edgar Allan Poe forum about your favorite Poe story. Print it out and attach it. Appropriate posts only.
Sign the guestbook at Poestories.com.
Summarize at least two Poe short stories you have never read.
Listen to the audio version of the Raven. What do you think of it?
Who is the Poe Toaster?
List five examples of "Poe in Your Life."
References
Image in the Public Domain
This post is part of the series: Website Lesson Plans
Integrate technology in your literature curriculum.