Novel Brochures: Quick and Simple Project-Based Learning for Grade 7-9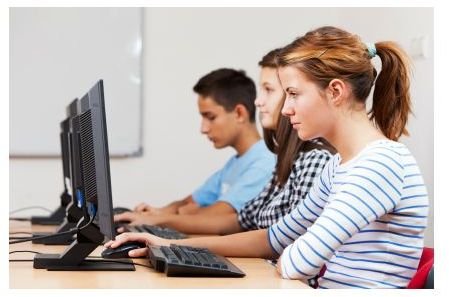 As technologically savvy as my students are in some arenas, they are shockingly inexperienced in others. As each term begins, I design assignments that will guide students to produce a variety of desktop publishing products, effectively engaging them in a practical tutorial of ways their computers can work for them in an English classroom. One assignment that gets quick, vivid results is the informational brochure.
Creating the Research Brochure
Students choose from a number of topics featured in the target novel to research and produce a brochure highlighting their findings. This assignment allows them to differentiate between quality of sources, practice citation, and utilize templates as a springboard for product design. The results range from traditional to trendy as students have the opportunity to manipulate both information and graphics within specific parameters.
Keeping possible topics for the brochure apart from the plotline of the novel helps students draw valuable connections to what they are reading, encouraging those who are struggling to complete the novel and enriching the comprehension of those who are vested in it. The brochure also provides a controlled environment in which students create personalized work.
Sample Assignment
Informative Brochures for Robert Newton Peck's A Day No Pigs Would Die
RESEARCH BROCHURES : You will create a 6 panel informative brochure on ONE of the following topic choices:
Rutland, Vermont (home of the Vermont State Fair)
The Shaker Way of Life (religion)
Ethan Allen and the Green Mountain Boys (history)
Abner Doubleday and early American baseball (sports history)
Caring for Pigs (farming, not pets)
Livestock Judging and 4-H (competition/conservation)
Robert Newton Peck (author background)
Use your choice of PAGES brochure templates to set up your brochure, as long as it is a 6 panel brochure.
The wording on your brochure must be your own. DO NOT cut/paste info from websites. This is plagiarism!
ONE panel must be devoted to citing your resources. We will use easybib.com to format these internet resources. Google is NOT a resource-it's a search engine.
Your brochure must include at least 3 pertinent photos, each with a caption explaining its significance to your subject matter. You will cite the sources for your photos on your Works Cited panel (see #3).
Design is important. One panel of your brochure will be a title panel that includes your name and the topic of your brochure. One panel will be the Works Cited panel. That leaves 4 panels for the information you develop on your chosen topic. Design your info panels to be readable and attractive. You are showcasing the information you have researched.
Of course, spelling and grammar "count"! This is a project to which you'll devote at least 3 class sessions, plus work at home. It should "look" well-planned. The tone should be formal.
This is an electronic assignment. You will submit your work via email attachment.
Grade the assignment using this rubric.
Why it Works
Because the research aspect of this project is simplistic, students are not intimidated by the assignment. I teach them how to cite their internet sources via Easybib.com, a free service for MLA citation that takes the sting out of the most daunting aspect of the project. The students develop computer manipulation skills such as switching screens, cut/paste, layering design elements, capturing URLs, using placeholders, and incorporating graphics in their work. The brochure format works well as it automatically compartmentalizes the content they are challenged to develop.
Surprisingly, students coming into my 9th grade classroom have very little experience with desktop publishing applications and even less with conducting any sort of academic research. This mini-project-based activity trumps the traditional report format while simultaneously exposing students to practical computer skills they can use well beyond the English classroom.
This post is part of the series: Project Based Lesson Plans for English
This series seeks to inspire teachers to incorporate project based lessons into their curriculum. The lesson plans found here have been used for at-risk grade 9 classes, but can also be used for grades 7 and 8.