Fun Fall & Harvest -Themed Lesson Plans for Grades K-2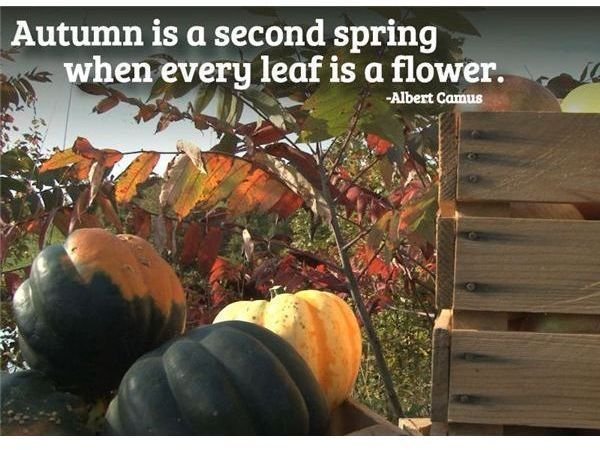 A Cornucopia of Ideas
Planning a seasonal unit can be quite a task, since there are so many topics to cover. These lessons and activities about leaves, apples,
pumpkins and more will help you pick the best ideas when preparing your fall curriculum. And with ideas for math, science language arts and even crafts, you won't have to look anywhere else for your plans!
Fall Classroom Activities for Grades K-1
Find everything you need to begin planning your fall unit. Autumn-themed poems and songs are perfect for circle time or shared reading. Children will practice math skills while sorting leaves acorns, making leaf patterns, and more. Also included are some fun craft and bulletin board ideas.
Although this lesson about trees in fall is part of a larger unit about trees, it would be a great lesson to use during an autumn unit too. Children will observe a tree on school grounds during the season and discuss what it looks like. After recording their observations, they also take note of the weather and clothes that they are wearing. The lesson also includes literature links and extension ideas.
Primary grade children will really love these math activities that use leaves as manipulatives. Your students can practice skills like measuring, sorting and subtracting with these fun fall-themes ideas. What a fun way to bring fall into your math curriculum.
Here you'll find the first article in a series about a week-long unit for teaching about autumn leaves. Each article in the series contains ideas for teaching math, language skills and art to kindergarteners, as well circle time discussions and suggestions for daily, leaf-themed read alouds.
Leaf-Themed Art Projects for Elementary School
Try added this fun art project to your autumn theme. After reading the book, Leaf Man by Lois Ehlert, students will have fun creating their own leaf creatures out of leaves. They even get to make a background scene for their creations. These would make perfect fall bulletin board displays!
The Lonely Scarecrow Lesson Plans
Scarecrows are a favorite symbol of the fall harvest, so be sure to include some of these lesson plans for teaching The Lonely Scarecrow by Tim Preston in your harvest unit. You'll find ideas for teaching science and reading skills, like sequencing, using adjectives and using Venn diagrams.
Kindergarten Apple Lesson Plans
In this series of apple plans for kindergarten students, you'll find daily ideas for circle time, math, language and more. Books and activities about the life of Johnny Appleseed are also included. If you aren't a kindergarten teacher, don't worry. These ideas can easily be adapted for children in first and second grade.
First Grade Project for The Apple Pie Tree by Zoe Hall
Use this fun book to teach young children about the life cycle of an apple tree. After reading the story, children will be able to tell what happens to an apple tree during each season of the year. You'll also find ideas for math and writing activities to go with the book. These ideas are the perfect addition to a harvest or apple unit.
A Week's Worth of Pumpkin Lesson Plans
This series about pumpkins for kindergarteners provide a whole week's worth of activities for a pumpkin unit. Find ideas for crafts, circle time, math, language and read alouds. Each day's lessons also include a materials list for easy planning.
Teaching the Pumpkin Life Cycle
Here's a great lesson for adding some science to your pumpkin or fall harvest unit. Children will learn all about the life cycle of a pumpkin when they plant their own pumpkin seeds. This lesson is written for preschoolers, but don't let that scare you off. It can be easily adapted for older children too.
This three article series about pumpkins for preschoolers can definitely be used with K-2 students. Find math activities using pumpkin seeds as counters, science and language arts lesson plans for the book Pumpkin Pumpkin by Jeanne Titherington, pumpkin crafts and even a yummy pumpkin cooking activity.
How Are You Peeling? Make a Feeling Pumpkin Book
Using the delightful book, How are You Peeling by, Saxton Freeman, students learn the value of their feelings by making a Pumpkin Feeling Book. It's a great addition to your fall lessons as students learn the value of friendships during the beginning of the school year.
Growing Vegetable Soup Lesson Plan
This lesson plan based on the popular children's book Growing Vegetable Soup by Lois Ehlert is a perfect addition for a fall harvest unit. The book tells explains the process of "growing" a bowl of vegetable starting from seed to soup. After reading the book, follow up with some of these fun ideas for sequencing activities, crafts and even a science game.
Vegetable Prints: A Fall Art Project
Use this art lesson to complement your fall harvest unit. Children will use vegetables as stamps for this harvest-themed project. As they use vegetables, like potatoes, peppers and carrots to make prints, they will explore patterns, shapes and colors. You could even challenge the children to make patterns with their vegetables to add a little math review to your art time.
Conclude your fall or harvest unit with fun celebration. Find ideas for an apple picking party, a pumpkin patch celebrations or a farmer's fall harvest celebration. Whichever you choose, it's sure to be a hit with your students!
All of these great lesson plans and activities should make planning your K-2 autumn unit a breeze. Do you have any further fall ideas to share?
References