Shakespeare Comes Alive in the Classroom: Tips for Reading Shakespeare Out Loud in Class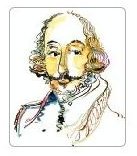 Many high school English classes read Shakespeare's plays. Too many high school students dread the experience, and even
find the most celebrated bard "boring."
Shakespeare's plays have survived and maintained their popularity all these centuries because they so eloquently portray the human experience. Regardless of time and place, Shakespeare's characters live and make mistakes and learn, albeit the hard way, the universal lessons of each generation. We laugh at the comedies, yearn for the lovers, and weep at the tragedies. So, why are our high school students groaning, yawning, and even avoiding Shakespeare altogether?
Simple: Shakespeare's plays were written to be performed and watched, not read. There are a variety of ways for high school English teachers to incorporate this fact in their classrooms and lesson plans, bringing Shakespeare to life for their students.
Circle
First, and more important than it may seem, get students out of rows and into a circle. There is wisdom in doing this. Seeing each other's faces makes discussion easier, and seeing each other read (not just hearing each other read) adds an important element to the experience, including the students' ability to follow the script.
For teachers who share a classroom and cannot leave the desks out of order, try having the kids move the desks quickly at the beginning and end of each session. Once they are in the habit, it should only take a couple of minutes. Other options include bringing the kids to the school auditorium and sitting in a circle onstage, or sitting in a circle outside (weather permitting). Any free spot that will fit the whole class comfortably will do.
Characters and Discussion
Divvy out roles for each scene. It is easier for students to follow the action when the same person reads a character. At the end of the scene, stop and have the students discuss what just happened, to whom, and why. After discussion and clarification, feel free to assign the roles to different students and read the next scene. This allows more students to be involved in the reading.
One last note: if students seem intimidated by the language, or are having a difficult time with pronunciation, try starting each circle session with a little stretching, yawning, and a tongue twister or two. Tell students (because it is true) that professional actors warm up before a performance with tongue twisters such as "Peter Piper…" so that they can get through the verse without getting tongue-tied. Therefore, tell them, it certainly couldn't hurt to try.
The above suggestions allow teachers to simply and easily incorporate a few important elements of drama into Shakespeare lesson plans. The students will be able to see and watch each other read, warm up together, and in each scene not become confused but rather keep the characters distinct in their minds.
Be certain to wrap up each reading by discussing what is going on in each scene right after reading it.
This post is part of the series: Making Shakespeare Come Alive in the High School English Classroom
Tips, techniques, and information about ways to bring important dramatic elements to the reading of Shakespeare's plays.