High School Lesson Plan: Publishing the Final Draft, the Final Step of the Writing Process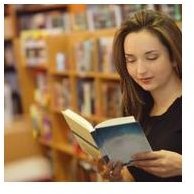 Publishing The Final Draft
Finally! You're there. You and your students are at the fifth and final stage of the writing process. It's time to publish the final drafts of
the essays that your students have spent the last few weeks feverishly writing.
If you typed the rough drafts, which I highly recommend due to all the revisions and editing, it is now time to go back and retype them, adding all the changes and corrections that have been made.
Last Minute Writing Tips
After your students retype their essays, make sure they use spell-check to catch any spelling errors they may have missed.Then have them reread their papers before printing. I like them to reread before printing because it saves paper and ink.You may also have them proofread a peer's paper to catch any missed mistakes.This really depends on the age and skill level of your students. I have taught classes where this was a complete waste of time and I have taught classes where students were actually able to help each other.
After printing (or rewriting if you do not access to computers or word processors) your students are finished! It is time to turn them in.
How To Share With the Class
There is one more step you may choose to take, depending on the amount of time you have available and your students. Some teachers choose to have their students share their final drafts with the class. This can be very time consuming, so one way around it is to have students pick their best sentences or paragraphs and share those instead. You can also write their best sentences on sentence strips and hang them around the classroom. This way, students receive some recognition for work well done, but you don't take up hours of class time reading essays aloud.
Grading
You will find that grading essays that have gone through the steps of the writing process to be much easier than grading essays that haven't. For one, there will not be as many mistakes. Moreover, since you have read their pre-writes and rough drafts, as well as them helped them revise and edit, you are already very familiar with the final drafts. This familiarity will allow you to quickly grade. It is important that you use a rubric to grade.This way, students see exactly what they did right and exactly what they had points deducted for. There are many samples of rubrics on the web, or you can write your own.
This post is part of the series: The Writing Process
In this five part series, the five steps of the writing process will be addressed. Pre-writing, drafting, revising, editing, and publishing will be explained and tips given as to the best ways to teach each step.