Tips for Writing Strong, Effective Sentences: Improve Revision With These Tips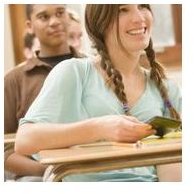 Redirected Frustration
I felt great. I had just taught an amazing lesson on the importance of writing strong sentences. Students gave me high-fives as they
walked out the door. Finally, they would be writing effective sentences in their essays.
But when they turned in their assignments, my joy turned to horror as I read the same drivel that had haunted my existence for years. "What did I do wrong?" I cried, as stunned students snickered at my incredulity. Seconds before peppering the class with double-edged sharpened pencils, I had an idea: maybe I should come up with a lesson on writing strong sentences and teach them how to actually do it instead of just telling them how important it is. I put the pencil sharpener away, called my wife, and told her I'd be home late.
I had work to do. I had to create a lesson plan for writing effective sentences. Here's what I came up with:
Techniques for Improving Sentences
Improve those monotonous essays with these techniques:
Add an infinitive phrase:
Before: All I wanted to do was improve my score in timed writing and getting those improved scores became very important to me.
After: To improve my timed writing score I should practice timed writing.
Use a subordinating conjunction to combine sentences:
Before: I thought I did excellent on my timed writing test. My grade was much lower than I thought.
After: I thought I did excellent on my timed writing test until I saw my grade.
Change a statement to a question in quotes:
Before: My friend and I thought about abandoning our friend as the bear attacked.
After: I turned to Bill and asked, "Should we warn Terrance or just go?"
Add a present participial phrase (that's a phrase beginning with a word that ends in 'ing').
Before: We ran faster than we had ever run before as the big bear ripped out Terrance's guts with its paw.
After: Looking on in dismay as the bear ripped out Terrance's guts, we awoke from our startled state and ran.
Join two sentences with a comma and a coordinating conjunction (and, but, for, nor, yet, so) and create a compound sentence.
Before: We knew we didn't have to outrun the bear. We had to run a little bit faster than Terrance.
After: We knew we didn't have to outrun the bear**, but** we did have to outrun Terrance.
Add dialogue:
Before: We told Terrance to get out of the tent and run.
After: I yelled, "Terrance, there's a grizzly bear outside the tent! Run!"
Start with an ly word:
Before: I was sad when I saw Terrance's body strewn across the mountain.
After: Sadly, we looked at Terrance's mangled body.
Start the sentence with a prepositional phrase:
Before: I ran really fast the moment I saw Terrance's arm torn off and thrown across the campsite.
After: At that moment, I ran faster than I'd ever run.
* This lesson was inspired by Mini Lessons for Revision by Susan Geye, 1997, Absey & Co. Spring, TX.
For a complete semester standards based curriculum guide, follow the link.
This post is part of the series: Style: It's What Quality Writers Possess
Neophyte writers assume style comes naturally. That's why they have none. Style occurs no more naturally in writing than it does in fashion or music. It's a deliberate creation of the stylist combined with serendipitous discovery while engaged in the creative process. It can be taught.