Bring A Midsummer Night's Dream to Life in Your Classroom: Act Out Scenes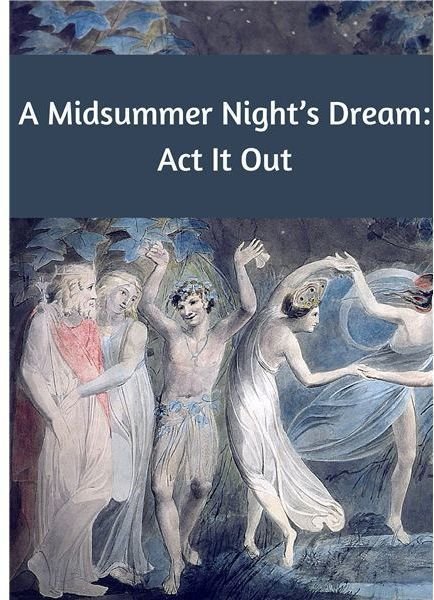 Although some scenes in A Midsummer Night's Dream may contain a bit of "mature" content, several scenes lend themselves to small group performances no matter what the age group. Following is one such scene that your students can act out as a class project.
A Wood Near Athens
Once it is edited down, the scene in which audiences first meet Puck, Titania and Oberon is a perfect scene for students to work with in small groups, in order to perfect their interpretation and performance skills.
Divide students into groups of four. Groups should consist of two girls and two boys, if possible. Give each group a copy of the short scene from A Midsummer Night's Dream and assign each group member a part: Puck, Oberon, Titania or Fairy.
Divide the students into groups based on their parts. (All of the Pucks together, all of the fairies together, etc). Work with one group at a time, practicing what they have to say.
While you work with one group, the other groups can write their names and the characters they are playing on the group scrolls. Put a flower in each girl's hair and a crown on each boy's head. Then, help them act out their scene.
Record the scenes if possible and email to parents so they can see their actors. In no time at all, you will have performance ready groups who have had a wonderful experience with Shakespeare's most original play!
Downloads
Download an Excerpt from the Play
Download a copy of the scroll for each student group
This post is part of the series: Midsummer Night's Dream High School Lesson Plans
Shakespeare's "A Midsummer Night's Dream" is a rich yet whimsical play that high school students can find enjoyable and educational. Use the ideas in this series to teach this complex, comical work.