Overview of Voodoo Religion in "Midnight in the Garden of Good & Evil" High School Lesson Plan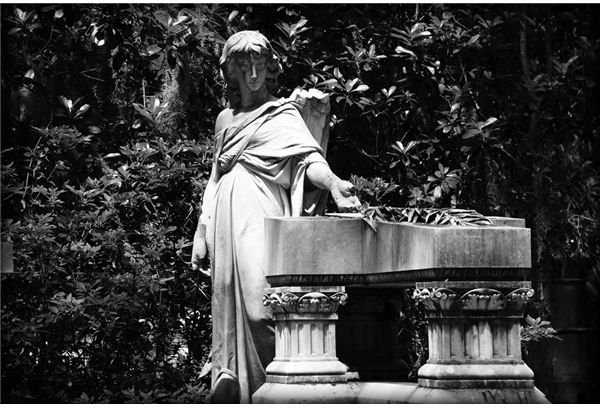 The iconic title of John Berendt's book is not any one particular garden. In his case, it refers to Bonaventure Cemetery, where he visits with Miss Minerva, a voodoo priestess hired by Jim Williams to help with his appeal process. However, readers will soon note that any cemetery can be a garden of good and evil, depending on what time you go and what type of magic you want to practice.
Minerva, one of the most interesting and mysterious presences in the book, offers limited insight into the actual voodoo religion. Lest students think that they are entering the world of zombies and other supernatural creatures, it is helpful to go over the basic tenets of this often misunderstood cultural religious practice and help them to see the connections it has to history and to the culture of an entire race of people.
Using the downloadable power point as a starting point for class knowledge and discussion, you can then visit the History Channel's website for an online documentary about the Voodoo Religion. Interesting and informative at the same time, it is sure to hold students' interest and will allow them to see even deeper meanings behind Minerva's mysterious words of advice and warning to Jim Williams.
As for the end of the book, leave it up to students to decide if that evil magic was truly working against Jim, or if he merely just had pneumonia, as his doctor said on that day he died. The circumstances of William's demise are at least as interesting as his life was and it is evident that he himself had beliefs in otherworldly, supernatural experiences. So, use this as an opportunity to introduce your students to a new concept and see how much interest you can garner for the novel!
Downloads
References
Photo of Bonaventure Cemetery by bp6316 under CC by 2.0 via Flickr
This post is part of the series: Midnight in the Garden of Good and Evil
This non-fiction novel tells the true story of the murder of Danny Hansford. This book contains controversial subject matter and is best suited to mature students in grades 12.