"Something Wicked This Way Comes" Comparing the Novel vs. the Film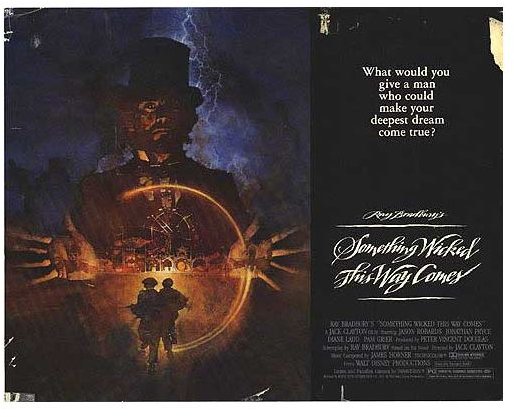 When we think of Disney, we normally think of cartoons and princesses and lands far away. However, in the 1980's Disney acquired the rights to Bradbury's novel and made a live action film of the story. Starring famed actors Jonathan Pryce and Jason Robards, the film stays true to the main plotline of the novel, but takes some liberties with character development and other details. It is an excellent teaching tool and a great way to once again reinforce compare and contrast skills, especially for your visual learners.
Lesson Procedure
Download the novel and film comparison chart so you can see what your students should be looking for. Then, give them blank copies to keep track of notes during the film. Once the viewing is over, use your chart as a starting point to begin compare and contrast discussions. For example, in the novel Mr. Holloway is a janitor, and in the movie he is a librarian.
Finally, hand out the novel question sheet so that students can review all of the pertinent details from the novel.
Then, the choice is yours; an essay test, an objective test, an oral presentation. You decide how to best assess your learners after giving them the tools they need to succeed. The film is an excellent way to wrap up this novel study and you will see their eyes sparkle with delight when they realize they have successfully read this classic tale.
Download
References
This post is part of the series: Something Wicked This Way Comes
Teach this horror novel to your classroom. These lessons are appropriate for students in grades 7-10.