St. Lucia Day Celebration and Activities For Grade School Students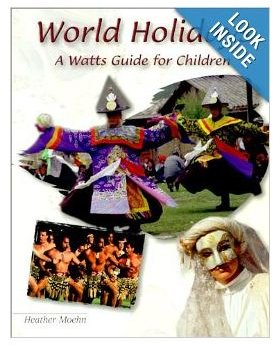 St. Lucia Day
Swedish people celebrate their own festival of lights during Luciadagen, or St. Lucia's Day. Lucia is the queen of lights, whose
presence helps remember that although her day is the darkest and shortest in winter, brighter days aren't too far away. St. Lucia was a Saint because of her kindness. She was an Italian who lived in Sicily during the 4th century. December 13th is her feast day. On December 13, the oldest daughter in a family dresses in a white robe with a red sash to play the role of Lucia. She wears a crown of evergreens on her head, topped with lighted candles. Her brothers serve as Star boys and wear tall pointed hats adorned with silver stars. They then all carry trays of traditional Lucia buns and cups of hot coffee to all the adult members of the family, who are still in bed. As the children walk through the house, they sing the Swedish version of "Santa Lucia." Heather Moehn's book "World Holidays: a Watts Guide for Children" is a great resource for holidays around the world.
Lucia Song
The night treads heavily
around yards and dwellings
In places unreached by sun,
the shadows brood
Into our dark house she comes,
bearing lighted candles,
Saint Lucia, Saint Lucia.
Craft and Snack
The girls in the class can make Lucia wreaths for themselves, and the boys can make Star Boy caps. To make a Lucia wreath, cut a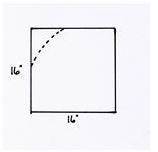 three-inch-wide strip of green paper. Staple the strip to fit the girl's head. Then have each child glue darker green holly-leaf cutouts around the strip. Click here to get a download of the holly-leaves. The girls can then make candles from white paper, color flames, and cut them out. They can then adorn their wreath.
For the boys, trim a 16" sheet of blue paper as shown to the right. They can cut out stars from foil and glue them to the hat. Roll the paper into a cone to fit each boy's head. Staple or glue the seam and add strings to the sides for a tighter fit.
While the students are wearing their headgear, serve a snack similar to those served the morning of St. Lucia's day in Sweden. Serve hot cocoa or hot cider, along with raisin cinnamon rolls.
This post is part of the series: Winter Holidays Around the World
Learn about all of the different winter holidays as they are celebrated around the world.