Snowman Craft for Kids: Torn Paper Collage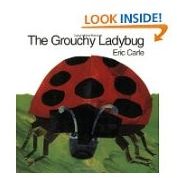 Books With Paper Collages
Many children's illustrators use the torn paper collage technique in their picture books. Eric Carle, Leo Lionni, Lois Ehlert, Ezra Jack Keats, and Bryan Collier are just a few well-known examples. Before beginning these snowman crafts for kids, spend some time with your students exploring their works. Here is a list of books and their authors to get you started:
Eric Carle
Grouchy Ladybug, Tandem Library

The Very Hungry Caterpillar, Philomel Books

The Tiny Seed, Little Simon

10 Little Rubber Ducks, HarperCollins
Leo Lionni
Little Blue and Little Yellow, HarperCollins
Frederick, Knopf Books
Swimmy, Knopf Books
A Busy Year, Knopf Books
Lois Ehlert
Snowballs, Harcourt

Market Day, Harcourt

Planting a Rainbow, Harcourt

In My World, Harcourt
Ezra Jack Keats
The Snowy Day, Puffin
Peter's Chair, Red Fox
Pet Show, Scholastic
Letter to Amy, Harper & Row
Bryan Collier
Rosa, Square Fish
Uptown, Live Oak Media
Martin's Big Words, Hyperian Book CH
Visiting Langston, Henry Holt and Co
The Process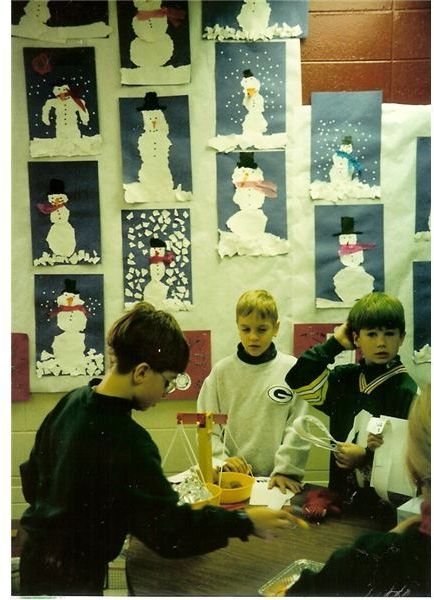 Collage is an art form in which the artist chooses, gathers and affixes materials to a background. The bits and pieces of paper, fabric and other materials are often layered to complete the effect. Collages are a great way to use recycled items! Students can use scraps of classroom worksheets, newspaper, wrapping paper, greeting cards, cardboard cereal boxes, wallpaper, grocery bags, tissue paper, letters, and fabric - just about anything!
For the snowman crafts project shown in the picture, students were encouraged to use pieces of scrap paper to create a snowman scene. While these children chose a more traditional route (using white for the snow and snowman, orange for a nose and so forth) you might want to encourage your students to choose non-traditional colors or images for their snowman craft. This snowman craft project can easily be adapted for use during any of the holidays, or for any theme you are studying - dinosaurs, insects, Native American housing, etc.
More Examples of Torn Paper Collage
For more examples of artwork created using the torn paper collage technique, visit the website and blogs of Eileen Downes. Ms. Downes is known as the "artist who 'paints' with bits of torn paper for a palette."
These snowman crafts for kids are sure to be an inspiration to others. Why not send a few off to your favorite torn paper collage artist as a "thank you" for their inspiration!
References
This post is part of the series: Christmas Activities for Kids
This series gives you a variety of activities to use at home or with your students around the Christmas holiday season. Includes holiday snack ideas and crafts!