St. Patrick's Day Classroom Activities, Lessons and Craft Ideas, Fonts, Clipart & More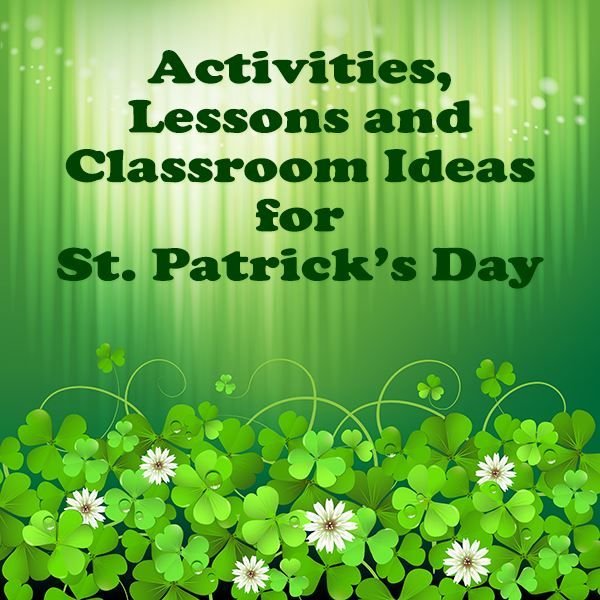 Classroom Activities, Arts & Crafts
Preschool Crafts for Celebrating St. Patrick's Day
The four crafts featured in this article are perfect for the Preschool or Pre-K setting and make great decorations for your students to take home, or you can hang them in the room to create a festive holiday atmosphere. You and your students will have fun creating blarney stones, shamrock picture frames, pots of gold and rainbows.
St. Patrick's Day Scavenger Hunt
Your students will have fun reading clues, completing activities and trying to find the pot of gold, while learning about the history of Ireland at the same time.
Two Fun Shamrock-Themed Learning Games
Both games exercise large muscle groups and encourage gross motor skills, while providing many opportunities for preschool teachers to explain why shamrocks are an important symbol of St. Patrick's Day.
Leprechaun Traps - A Fun Kindergarten Activity
Oh, Oh…Don't let the Leprechaun's get your gold! Get the whole school in on the 'trap'. This will be a St. Patrick's Day your students will always remember.
Lesson Plans and Themed Units
A Wee Bit of Fun for St. Patrick's Day
St. Patrick's Day falls on a Friday this year, and what better way to celebrate the fun than with a full week of themed activities. This preschool unit celebrates the holiday with games, art, cooking, science, music and more.
Feeling Lucky? St. Patrick's Day Preschool Lesson Plan
This preschool lesson plan introduces children to some basic St. Patrick's Day facts. You'll read books, make shamrocks, explore the color green, introduce the flag of Ireland, the country's geography, and have fun with the colors of the rainbow and a pot of gold.
A Cross-Curriculum Lesson Plan for St. Paddy's Day
This lesson for the elementary grades incorporates language arts, math, geography and arts and crafts. Books used are "Daniel O'Rourke : An Irish Tale" by Gerald McDermott, "Jamie O'Rourke and the Big Potato" by Tomie dePaola, "Leprechaun Gold" by Teresa Bateman and illustrated by Rosanne Litzinger, and, "Patrick : Patron Saint of Ireland" by Tomie dePaola.
Celebrate the Culture of Ireland with this Elementary Lesson Plan
This fun and interactive multicultural lesson plan will broaden the knowledge of your students by teaching them the facts about Ireland in addition to the fun legends that have been a part of the country for centuries.
Culture, Customs and Language Learning
Curious Customs: The Stories Behind Saint Patrick's Day
Why do we all wear green on March 17th, celebrate Irish heritage and watch parades, even though many of us are not of Irish heritage? How did this holiday become so popular in the United States? Here are some explanations about the curious customs behind the holiday that has somehow managed to become a special day for millions of Americans.
Irish Sayings for St. Patrick's Day - and the Rest of the Year
Your students will enjoy learning these simple Irish phrases and sayings. Knowing the right words in Irish is one of the best way to get Irish eyes a-smilin' at you. Sláinte! - cheers!
Gaeilge vs. Gaelic vs. Goidelic: What's in a Name?
For some American English speakers, the word "Gaelic" means an ancient language now spoken with distinct versions in Ireland and Scotland, both members of the Goidelic language family. But the truth isn't so clear-cut. Some would argue that the term "Gaelic" is more properly applied to the Scottish language than to the native speech of Ireland. This article takes a look at the distinct dialects of the Irish language.
Is Irish a Dying Language or Is There Hope for its Survival?
Irish is one of the three Gaelic languages; the others being Manx Gaelic and Scots Gaelic derived from the Goidelic branch of the Celtic languages. The main difference between all three is that Irish is the only Gaelic language that is on the UNESCO Interactive Endangered Languages list. Find out why this language is dying and what steps are being taken to save it.
Wallpapers, Clipart, Fonts and More
Looking for St. Patrick's Day themed arts and fonts to liven up your teacher web page, bulletin board, handouts or worksheets? Most of the resources below are absolutely free, or are available for very little cost.