Games for Toddlers to Develop Fine Motor Skills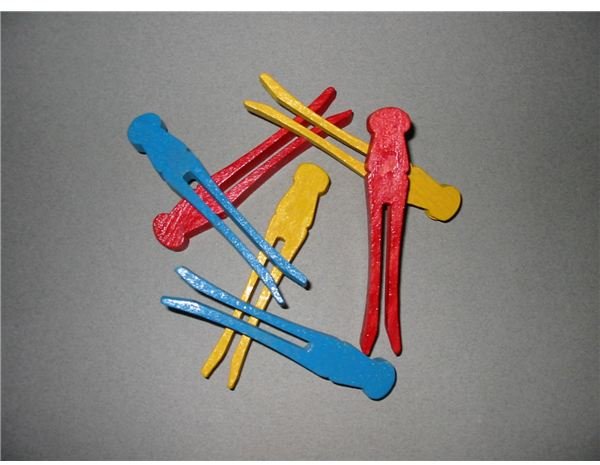 What Is Fine Motor?
Toddlers use fine motor skills everyday. The use of the hand, fingers and thumb in coordination with the eyes are abilities that young children develop as they grow and mature. A child needs to develop fine motor skills to complete tasks such as buttoning a shirt, tying a shoe, drawing, and writing. Through play, toddlers practice these skills and acquire dexterity.
Water Play
Letting a toddler play with water (and toys in water) encourages the development of the senses and enhances their small muscles skills. There are many ways to play in water; from experimenting with water toys, squeezing sponges, to exploring temperature with ice. Below are two water game ideas to help develop fine motor skills:
Ice Cube Water Play
Show the toddler how to make colored ice cubes by adding food coloring and water to an ice cube tray. Freeze until solid. To play, place a dishpan of warm water in front of the toddler adding the colorful ice cubes to tickle the senses. Encourage the child to play freely with these two forms of water. Talk about how the ice cubes feel on their fingers. Emphasize what happens when the ice cubes melt back into the water.
Floating Toys in Water
Anything that floats in water is fun for toddlers during play time. An inexpensive floating toy is made with Styrofoam. Cut shapes from clean produce trays found in the supermarket. Make shapes like hearts, flowers, and any other geometric shape. Place these pieces into a basin of water and invite the toddler to play with them. Show toddlers how to dunk the shapes underwater and together watch the pieces float to the surface.
NOTE: Supervise children at all times when near water. Even a small amount of water in a basin or bucket can be a drowning hazard.
Clothespin Play
Invest in wooden clothespins (not the spring-type) and watch toddlers play these games with delight. Clothespin games help toddlers develop eye/hand coordination and small muscle skills.
Clothespins Sticks
Divide a package of wooden clothespins in three parts. Paint them with primary colored paints (red, yellow and blue). These clothespins can be a toddler's version of colorful pick-up sticks. When dry, invite toddlers to play with the clothespins, first by sorting them by color. Another game would be allowing toddlers to drop the pins into a container. Watch their aim improve with practice.
Poke an Egg Carton
The use of a recycled egg carton can make a fun game for toddlers. Puncture holes in the bottom of each section of an egg carton (cardboard or Styrofoam). The hole must be large enough to fit a clothespin. Invite toddlers to poke one clothespin into a hole and continue placing pins into each section. When finished, they can remove them. Continue playing this game as long as there is interest.
Box Play
Young children love to play with boxes–an easy recycled material to keep around. Toddlers can nest boxes together placing the small ones inside the larger boxes. They can also begin to stack boxes, one on top of the other to build towers.
Empty milk cartons can be cleaned and stuffed with newspaper. After taping the end shut, cover the entire carton with colorful adhesive paper. Make several to have a supply of box building blocks for play. These make wonderful blocks for toddlers as they are lightweight and no more pinched fingers to cry about.
Keep in mind that the best part of using games to develop fine motor skills is that they are a fun and easy way to bond with your child or the children in your care. Read on for some toddler games to develop gross motor skills.
Source
Creative Activities for Infants, Toddlers, and Twos by Mary E. Mayesky, Ph.D., Duke University [Fearon Teacher Aids, 1990]
NOTE: Manipulative toys with small pieces may cause choking and should be stored out of children's reach when not supervised by an adult.