Supplies for the Preschool Classroom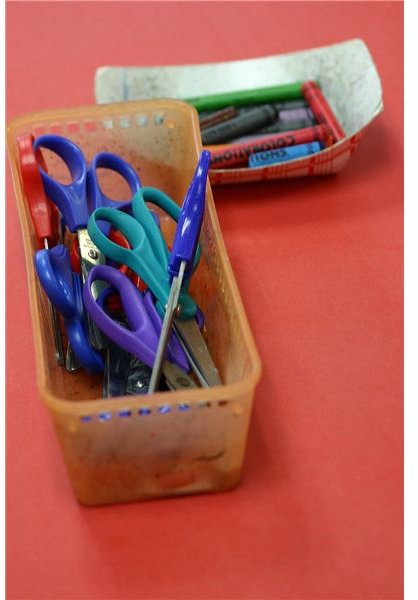 As you set to prepare for a new school year, making a supply list for your preschool classroom will be a huge benefit when the students arrive on the first day. Adding those supplies that you use most often will ensure that, when you plan an activity, you will have the materials on hand to complete it.
Must Have Preschool Supplies
When I first took over as the director of a small preschool, they did not have a supply list for the students. This was one of the first tasks I tackled. We ran the school on a tight budget, and, rather than ask parents for a supply fee, most felt they would rather send in supplies to help with day to day activities. Step one: what to add to that list.
Boxes of tissues: During cold and flu season, you can go through these quickly. And, having them readily available will encourage students to use them instead of their sleeves!

Hand sanitizer: See note above about students and sleeves!

Antibacterial cleaning wipes: Great for quick clean ups.

Glue sticks: Have you even witnessed a preschooler wind up a glue stick? Enough said!

Masking Tape: Hanging up art projects and other student work takes a lot of tape.

Zip-lock bags: These come in handy for storage and other projects.

Dry erase markers: We used individual white boards for daily activities, and these can be expensive to keep in stock. Be sure to ask for the low-odor markers. You may also ask for socks; they make great erasers for the white boards.

3-ring binder: I used these to keep a portfolio of students' work. Specify a size so that they are easier to store.

Pencils: Keeping a stash ready and sharpened can make activities go much smoother.

Colored pencils, crayons, washable markers: Keeping these readily available in an art center can spur creativity, and you can also keep a stash to pass out for planned activities.

Packs of white paper: Between your art center and other activities, this is a valuable supply to keep on hand.
Depending on your enrollment, you may have to split up the supply list alphabetically, or ask girls and boys to bring different items.
Where to Put Everything
Now, all of those wonderful items above will be coming to you all at once. You will need to plan ahead and decide how you will store everything. Clear plastic totes are ideal because you can quickly see what is in them. If you store like items together and label all of your containers, you will be able to easily access items when you need them. As the year moves along, take inventory of these items and don't be afraid to send out a wish list to parents on the items you have used the most.