Establishing and Stocking a Preschool Writing Center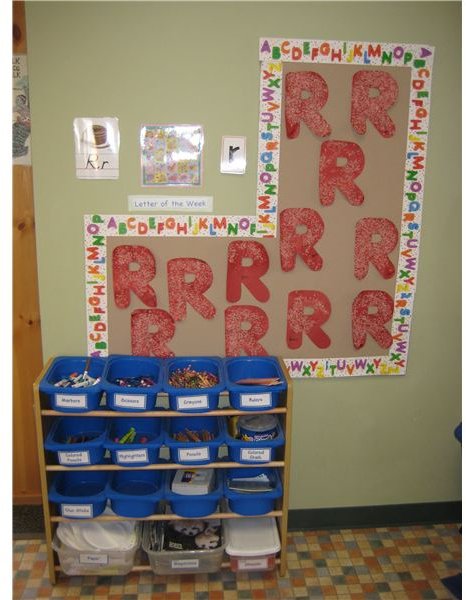 What Goes Into a Writing Center?
As preschool teachers we know the benefits of learning centers. In addition to basic centers, a preschool writing center can be extremely beneficial to your students.
Where Should the Writing Center Be?
When planning your learning center pay careful attention to where you want to place it in your classroom. The writing center will be busy but not nearly as boisterous as your block area or dramatic play center. A good idea is to block it off with shelves. This will allow your students to be busy and creative without getting distracted.
Consider Writing Center Activities
Before you start filling up your center, consider some off the activities your preschoolers will be doing. This will naturally lead you in the right direction when you are choosing supplies. For example, if your students will be creating books you will want to have staplers, art supplies, and cardboard cutouts for covers. If they will be writing letters, provide stationery, envelopes, and stickers to use for stamps. Keep the materials for individual projects in their own bins. Be certain to appropriately label your bins and shelves. This will help your students be more independent with their projects as well as keep the center organized.
Start with Basic Writing Center Supplies
Let's start with the basics: What will they write on? Have paper (of course!) available to your students in every size, shape, texture, and color available. Index cards, postcards, and greeting cards are nice. Provide clipboards, dry erase boards, and magic slates. Set up a portable chalkboard or apply a coat of chalkboard paint to a wall in that area.
There are a lot of fun writing utensils for children. Pencils, colored pencils, markers, pens, and chalk are basic and inexpensive writing materials. Alphabet stamps and ink pads are always a hit. A typewriter, word processor, or computer is a terrific addition to a writing center.
While some students will take right to writing, it is important to consider your pre-writers. There are many supplies that are fun for the pre-writer. The stamps and ink pads work well for pre-writers or will encourage those reluctant to participate in the writing center. You can also provide magnetic alphabet tiles for letter recognition and writing placemats. Writing activity cards are helpful. They are two-sided cards you can write on with a non-permanent marker and wipe off. You can laminate posterboard cutouts and allow your students to practice writing with washable markers.
Furniture and Bulletin Boards
As in other learning centers, be sure your preschoolers are comfortable with appropriately sized furniture and attractive surroundings. The writing center may be a good place to have an author bulletin board where you can rotate favorite authors. Allow students to take their books home or leave them in the writing center for their friends to read.
Capturing Enthusiasm
Writing is a lifelong skill that will open doors for your preschoolers for the rest of their lives. Encourage them early by providing the tools and time for them to develop this very important writing skill.
This post is part of the series: Preschool Writing Centers for Your Classroom
This series will explore how to set up preschool writing centers in your classroom as well as different activities that will encourage emerging writers.