Preschool or 4 Year Old Schedule Samples- For the Day and the Week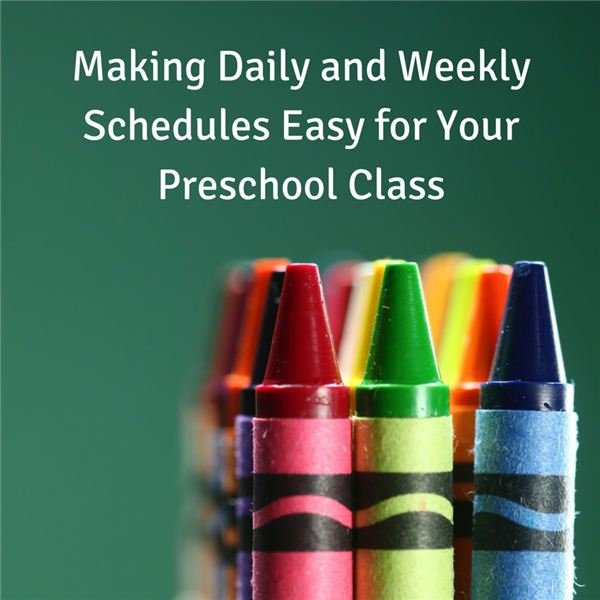 Although there are many variations of preschool schedules for 4-year olds, here is the one I use with my class daily. It is based on a full day program for children that do not sleep in the afternoons.
For most lessons, 30 minutes are scheduled. While the actual activity usually only takes about 15 minutes, the scheduled time allows for the activity to be introduced, the activity itself, extra time for children who take a little longer and cleaning/tidying up afterwards.
Some children finish a lot faster than others, so let them do something quietly (read a book, draw a picture) while waiting for their classmates.
Daily Schedule
8.30: Arrival
8.30-9.30: Free Play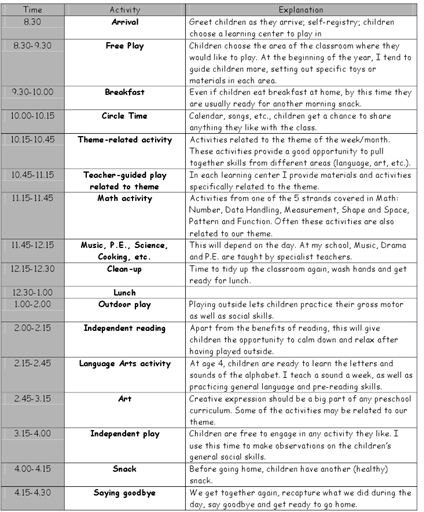 9.30-10.00: Breakfast
10.00-10.15: Circle Time
10.15-10.45: Theme-related activity
10.45-11.15: Teacher-guided play
11.15-11.45: Math activity
11.45-12.15 Music, P.E., Science, Cooking, etc.
12.15-12.30 Clean-up
12.30- 1:00 Lunch
1:00-2:00 Outdoor play
2:00-2:15 Independent reading
2:15-2:45 Language Arts activity
2:45-3:15 Art
3:15-4:00 Independent play
4:00-4:15 Snack
4:15-4:30 Saying goodbye
The image to the right has more detail.
Get the Schedule Samples
Feel free to download a more detailed daily schedule in PDF format right here on Bright Hub:
If you would like to see a sample of a weekly schedule, including activities, follow this link:
Please note- these are for personal or classroom use only. All rights reserved.
Adapting the Schedule to Your Needs
There are different possibilities for adapting the schedule if you do not teach a full-day class:
Lessons are scheduled for 30 minutes, which is quite generous, especially for math and language arts activities. In most cases 15-20 minutes will be enough.
Most subjects are scheduled at five lessons per week, which is not always necessary. Especially if you include some art and math activities in themes, you should be able to reduce those lessons to three math and two art activities per week.
In the above schedule, there is a total of 2 hours 45 minutes for¨"play time" (free play, teacher guided play, outdoor play and independent play). Even though playing is an important part of any preschool program, this time can be reduced in a half-day program.
Helping Children Follow the Schedule
In order for children to visualize the daily schedule, a clock with pictures works well: arrive - play - wash hands - eat breakfast - etc. Music is a good way to indicate transition from one activity to the next, especially when it is time to tidy up. As soon as my children hear the song "Old McDonald", they know it is time to finish what they are doing and tidy up the toys!
Note: This is only one way to plan a preschool schedule for 4-year old children in the classroom. Each school and teacher may have a variation of times and lessons; as long as the basic criteria and curriculum needs are met.
Source: Teacher experience
This post is part of the series: Help for the New Preschool Teacher
Ideas for the new preschool teacher on circle time, calendars and scheduling the preschool day.