Preschool Bible Lesson Ideas and Transitioning Tips for Sunday School Teachers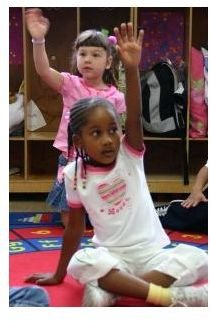 Give your children's ministry curriculum an update with these lesson and transitioning ideas for Sunday school teachers of preschoolers. Storytelling, rather than reading, is more appealing to preschool children. Using visual aids like puppets or flannel graph figures engages the multi-sensory learning ability of preschoolers and is highly recommended for teaching preschoolers.
Sunday School Lesson Ideas
Teaching Bible stories is an excellent way to introduce key biblical concepts like obedience, God's provision, and faithfulness. Here is a guide to ideas for lessons about characters from the Old Testament whose stories are amazing.
Genesis - the creation story.
Exodus – Moses and the story of the Israelites.
Leviticus – God's blueprint for worship and holidays.
Numbers - grumbling is bad, spying on Canaan, and a talking donkey.
Joshua – stopping the sun and bringing down walls.
Judges – stories of Deborah, Gideon, and Samson.
1 and 2 Samuel – story of Samuel, King Saul, David and Jonathon's friendship, David and Goliath.
1 and 2 Kings – Story of Solomon and the prophet Elijah.
1 and 2 Chronicles – Story of David's reign as king, and Solomon builds the temple.
Ezra and Nehemiah – Story of rebuilding the temple, and the walls.
Esther – Queen Esther risks her life to save her people.
Psalms – Explanation of the Psalms, stories of the writers, favorite Psalms like Psalm 23 (the Lord is our shepherd), and Psalm 89 (God's love).
Faith Heroes Lesson Ideas
Here are ideas for Sunday school focusing on major faith heroes from early Old Testament times. Planning lessons around these famous Old Testament characters is an excellent way to teach preschool children about trusting God, why obedience is important, and how to develop faith in God.
Adam and Eve were the first man and woman.
Abraham, Sarah, Isaac, and Rebekah were the ancestors of the Hebrew nation.
Jacob, Rachel, and Joseph were key characters in Old Testament times.
Famous Bible Children Lesson Ideas
Many faith heroes, like Samuel, were children, so it is simple to connect them and their stories to preschool children. Here is a list of some famous children from Bible times to feature in Sunday school lessons for preschoolers:
Ishmael was abandoned in the desert.
A ram saved Isaac's life.
Miriam watched over her brother Moses until the Egyptian princess found him.
Jehoash ruled over Judah when he was seven, and Josiah became king at age eight.
God told Hosea to give his three children unusual names as a message to Israel – Jezreel, Lo-Ruhamah, and Lo-Ammi.
Transition Tips
This short list of transition techniques is one of the ideas for Sunday school teachers of preschoolers for effective classroom management. These ideas can be used as-is or customized to individual classes.
Preschoolers love songs and rhymes, repetition, and being called by name. Here is a rhyme about picking up toys to be sung to the tune of "London Bridge" which uses the children's names: Clean up, clean up, Zachary picks up blocks, Suzie picks up books, Jimmy picks up toys. Clean up, clean up, now the room is clean, thank you all my helpers.
Here are some other ways to transition from one preschool activity to the next smoothly:
Use a visual cue such as putting on a special hat or a storytelling apron. Some teachers use a different accent, like British or Scottish one, as a transition clue.
Use a specific sound – for instance, a ringing bell - to signal transition time.
Tell the preschool children to get the "wiggles out" and let them wiggle, shake, and move.
Final Tips
These are just a few lesson and transitioning ideas for Sunday School teachers of preschoolers. The New Testament is another reference source to use when planning Sunday school lesson plans for preschool children. The stories of faith heroes like John the Baptist and the apostles build on the foundational concepts of trust, faith and obedience.
References