Ideas, Ideas, Ideas
Preschool yearbooks are a fantastic way to preserve memories of that precious transitional year where little ones transform into school agers. Preschool teachers have a unique view of the moments and achievements that make that year so special. With this in mind, preschool teachers have the dubious task of deciding on how best to preserve those memories.
Preschool yearbooks and scrapbooks come in many shapes and sizes. They may be designed so that the whole class is represented and include the professional photos that were taken that year or they may be unique and represent an account of an individual child's year and successes. Themes from nature or the alphabet can drive the design of the album or the album can be arranged chronologically starting with the beginning of the year and concluding with preschool graduation. Some photography companies even specialize in producing professional preschool yearbooks. With all of these ideas for preschool yearbooks available, it is up to the preschool teacher to choose which one is right for their class.
Pictures, Pictures, Pictures
The one thing that all of these ideas for preschool yearbooks have in common is great photos of the students. Whether the book is designed individually to show the progression of a single child or to display the achievements and activities of the entire class, great snapshots and group photos are the heart of the album.
If there is time to plan ahead, it's a good idea to make a list of all of the occasions that should include photos. If that's not possible, just grab the camera and start shooting.
Candid photos should be taken all throughout the year to show the activities of the class and to highlight the interests and achievements of the students. Here are some photo ideas for preschool yearbooks: children at circle time, children coloring or doing table work, children making crafts, groups of children holding up their craft projects, children playing on the playground, children playing in the classroom centers, children dressed up for Halloween, children celebrating Christmas, Valentine's day, St. Patrick's Day, and Easter, children looking at books individually, children with their parents or grandparents on Grandparents Day, Muffins with Mom or Donuts with Dad, children exploring something new such as a fire truck or an interesting animal guest that visited the class. Preschool teachers should also consider their curriculum for photo opportunities. For instance, an animal unit, an apple or pumpkin lesson, or a unit on outer space all may provide wonderful photo ops.
When taking pictures of children it is important to consider taking the photos from different angles. Getting down on the children's level while they are playing or standing above and behind them while they work can supply some fabulous photos for inclusion in a preschool yearbook.
Themes, Themes, Themes
A fun way to approach a preschool yearbook is to plan a theme for the book. One popular theme is the ABCs. An ABC themed preschool yearbook includes 26 pages each devoted to a different letter of the alphabet. Since preschool teachers generally spend the year going through the alphabet with their students, they will need to make sure they take photos on days related to the most challenging letters of the alphabet. This means the Q lesson needs to be about quilts or queens and photos must be taken. Likewise, the lesson on Y should include yarn, yo-yos and the camera. With some creativity and planning, preschool teachers can insure that they do not come up short on pictures at the end of the year.
Other possible ideas for preschool yearbooks and their themes include: outer space, animals, and nature. A trip to a hobby store with a good scrapbooking section can help insure that these themes are incorporated throughout the yearbooks with die cuts, stickers, special paper and lettering.
In addition to photos and thematic elements, the best preschool yearbook ideas also include artwork, writing samples, and handprints of the children from throughout the year. A sentimental poem about growing up or tiny handprints is also a great way to bring a tear to the eye of most parents of preschoolers. In all, have fun making memories!
Picture Pages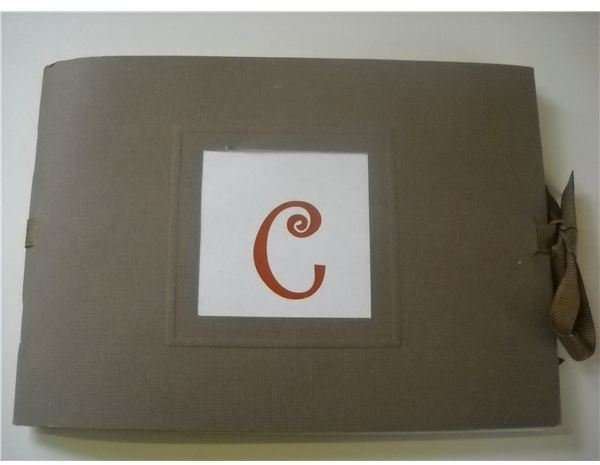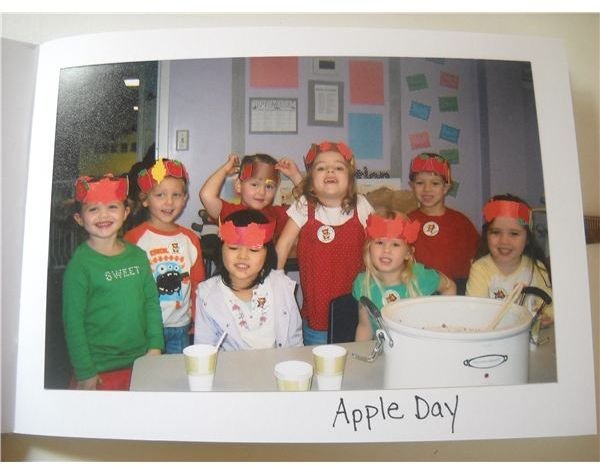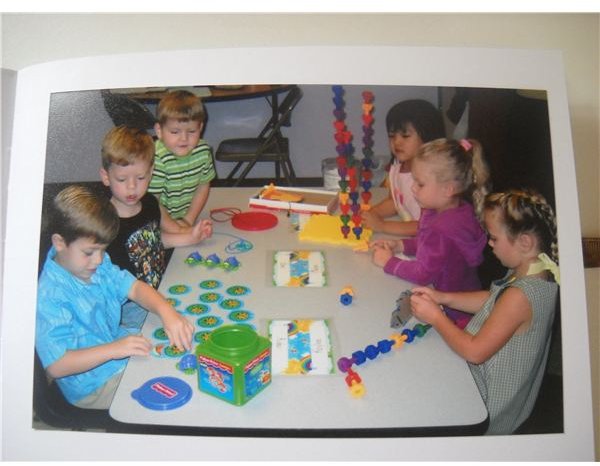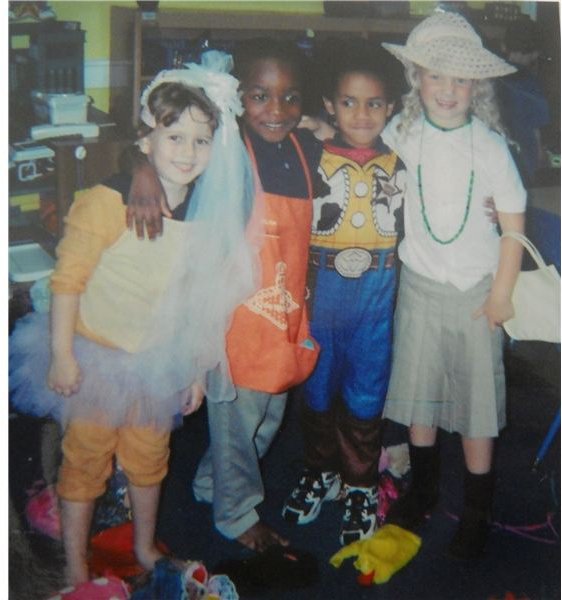 References
Humphrey, Nicole. ABC Scrapbooks – Five More ABC Lists https://scrapbooking.families.com/blog/abc-scrapbooks-five-more-abc-lists1
Olivier, Denise. How to Make a Preschool Scrapbook https://www.ehow.com/how_2249935_preschool-scrapbook.html
Images provided by author, all rights reserved