The Book Nook: Preschool Reading Corner Ideas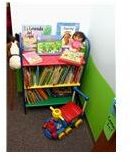 Classroom Placement
With a little bit of time and a dash of creativity, you can make the reading nook the most inviting area of your preschool classroom. Begin by envisioning the kinds of places you like to curl up with a good book. Preschool reading centers should look just as inviting and comfortable as the types of reading areas adults prefer. Soft, comfortable seating and good lighting are the cornerstones to a perfect preschool reading nook.
It is best to plan out your reading nook when children are not present since you will probably be moving furniture and looking critically at the layout of your classroom. The reading nook should ideally be located near a window which will allow for a fair amount of natural light. A reading center should also be placed as far away from the highest traffic areas of your classroom as possible. High traffic areas can be noisy and it is important to create a sense of peace and quiet in the reading center.
The block center, dramatic play area, and art center are often the noisiest places in a preschool classroom. If possible, tuck your reading area into a corner away from these noisier centers. Use shelving to block the area off, allowing only a small entrance. A small entrance into the nook will discourage running as well as provide a visual cue as to how many children are allowed in the center at one time.
What to Include
Preschool reading centers will obviously contain classroom books and other reading materials, but what else should be in there? Child sized armchairs provide space for one child to sit alone and enjoy books. If these chairs are not in your budget, try using pillows or beanbag chairs. An economical idea is to purchase standard size bed pillows and king size pillowcases. Use hair elastics to tie the excess pillowcase fabric at the top of the pillow. Squish the pillow down as far as you can into the pillowcase using the hair elastic. This makes the pillows a bit more sturdy. Remove the elastic and wash the pillowcases weekly. Carpet squares can be another good seating option for preschool reading centers. Display a few large stuffed animals in the reading center that children can lounge with, share books with, or use as a pillow. Providing comfortable seating is key to providing an inviting space that children will want to spend time in.
Be sure you have adequate shelving for books to be displayed in a friendly way. Shelving that allows books to be displayed cover out is ideal, as pre-readers indeed judge books by their covers. Be sure you do not display all classroom books at the same time. Change a few books as often as your theme changes so children are not bored by the book selection. Provide fiction picture books as well as non-fiction books. Even coffee table books with lots of photographs are ideal for preschool children. Books that contain famous works of art can become classroom favorites, as well as classroom books you have created yourself. Children's magazines, science magazines and food magazines can also be displayed in the book center.
Display books on CD or books on tape on hangers and be sure to have personal listening devices nearby for children to use. A small round table with seating for two to four children in the reading nook is an ideal place to use books on tape.
Providing enticing preschool reading centers does not have to be expensive or time-consuming. With just a bit of classroom planning time and a pinch of creativity, you can have a reading nook that will become the favorite center in your classroom.
Sources
Photo Credit: phaewilk at morguefile.com
Source: Author's classroom experience