Assessing Student Portfolios in the Middle School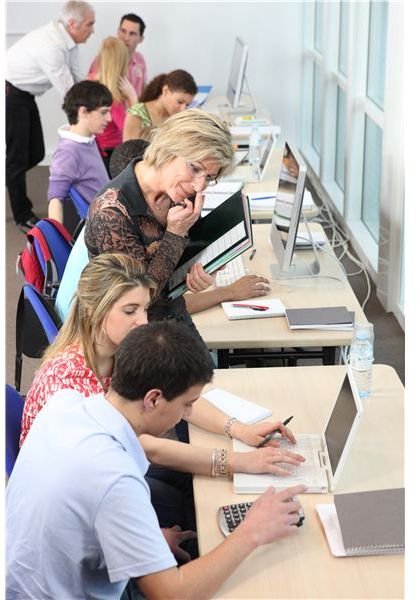 Tips to Assess the Portfolio
How do you go about the task of assigning a grade to a student's portfolio? Portfolios show growth and can be a showcase for student work. It's difficult to think about taking all that creativity and defining it with a letter somewhere between A and F. However, in the
end, students need a grade.
For the working portfolio, an easy assessment can be a checklist and a reflective essay and/or a rubric. For the final portfolio, the teacher needs to clear about expectations from the beginning and to make the final assessment with the use of a rubric. It is best if the students receive the rubric on the first day of class, so that they know the expectations. The following is for a writing portfolio.
Assessing the Working Portfolio
The working portfolio should be assessed each grading period. Students need to organize the working portfolio, as the folders can become messy and disorganized. Students need to show that they have completed all the required assignments and have made improvements in their writing, such as in the areas of use of writing conventions, organization, including more details, etc. This can be done with a reflective essay and checklist. You can create a checklist or spreadsheet for the student to access on the computer, or you can have them organize it the old-fashioned way.
Checklist and Reflective Essay
The checklist should include a student check-off sheet of all required writing assignments. Students should discuss their current strengths and weaknesses and what they want to improve the next nine weeks in the reflective essay. If the teacher wants to use the rubric in addition to these items, that is nice too.
Assessing the Final Portfolio with Rubric
The final portfolio should be assessed with a rubric. Criteria for the rubric could be the following:
All required items included
content/details
use of writing conventions
creativity
neatness
organization
use of transitions
voice
Before students turn in their final portfolios to the teacher, students should peer-edit the portfolios using the rubric. Students should then have time to re-work any pieces.
After the teacher has graded the portfolio with the rubric, it is most meaningful if he or she can discuss the portfolio with students individually. Of course, it is best if the teacher is conferencing the whole year with students individually. However, this step is important so that the final portfolio is truly a celebration of the student's work and so that the student knows what he or she needs to work on next year.
This post is part of the series: Portfolios in the Middle School
Portfolios have been around for years. Many teachers have questions about where to put them, what goes in them and how to assess them. This series of lessons will offer tips and address these questions.