Gang violence had been rampant at the inner city school I taught at, so I feared the worst when I heard Ms. White's scream.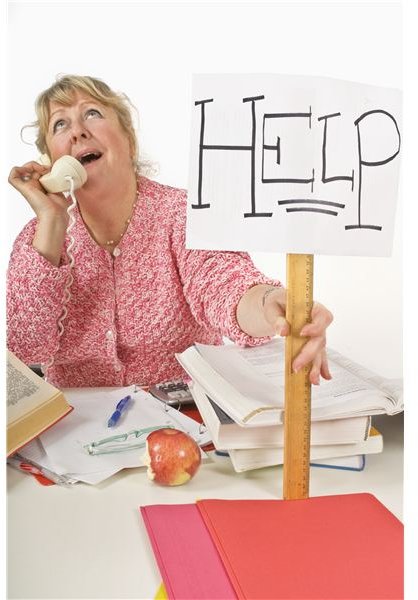 I rushed into her room. She sat, arms crossed, head down, sobbing uncontrollably. "What's wrong?" I asked. Without speaking she motioned to the paper on top of her desk.
It was her paycheck.
If this seems like an all too common scenario, these basic financial success principles will help you become a wealthy teacher. I've used them in my own life and live quite comfortably on my paltry teacher's salary.
Where's All the Money?
For years educators have clamored for more money, yet have only enjoyed slight pay increases. Well, I for one am tired of teacher's excuses. As long as we depend on others to raise our financial status, we will continue to be disappointed. It's time to create the amount of financial success we desire.
How did the rich get rich? It's not because they had money thrown at them (at least not for most) it's because they have adopted a wealthy mindset. The advice in this article will look at the fundamental mindset and actions of the wealthy and then explore specific strategies for teachers:
One's financial success can be traced ultimately to his or her financial blueprint. In other words, your beliefs about money determine your actions toward money, which determines your amount of money. We will explore philosophies on the mind-money connection as well as an easy money management system that will help even the most destitute educator increase wealth.
The Basics
First of all, the basics. Do you have debt? Do you not have anything in savings? Most experts advise to first save up a $1000 emergency fund (at least) and then focus on paying down your debt. In addition to making a plan to pay off any debt, you should continue to add to your savings account. It's recommended to have enough in savings for three to six months' living expenses in case something should happen to your job (do you have tenure?)
Teacher Traingin: Personal Money Management Websites
Each of the following websites has a personal finance section that will help you get started. This is by no means an exhaustive list. Search and find one you like. I would strongly discourage getting your financial advice from an insurance website. They encourage low-yielding, high-commissioned products.
CNN: Sections on personal finance, real estate, technology, and its partnership with Fortune Magazine make CNN an excellent source for the wealth seeker. It also has the most attractive and most easily navigable site on the web. I have used this site to help students learn financial literacy.
MSN: Sections on personal finance, investing, and taxes, without the super hyped headlines of other financial news sites, make MSN Money a popular site for many. The information is comparable to CNN, but the layout makes it tough to navigate.
Yahoo: Yahoo's done a great job of landing well known personal finance experts such as Ben Stein and Suze Orman, who give solid, independent advice you may not hear from a broker trying to earn a commission. Yahoo's real estate section and its investing section are the best on the web.
Natalie Pace: Natalie's newsletters contain solid, reliable, and wealth building information. She deals with investing basics, specific stock picks, and the wealth mindset. She has created a niche with her focus on green technology and socially conscious investments. I rarely make an investment without reading her insights.
Bankrate: Bankrate cuts through the hype prevalent on many of the financial news networks. I consult Bankrate whenever making an important financial decision.
Roth IRA: Go here before starting any retirement account.
Books
The Wealthy Barber by David Chilton: The wealthy barber teaches anyone how to become wealthy regardless of income. One of the first books on personal finance I read, it got me started on the road to wealth and helped me establish sound investment habits.
The Automatic Millionaire by David Bach: David Bach stresses the same basic principles contained in The Wealthy Barber and teaches you how to make it automatic. The entire premise of the book is many people are too busy to become wealthy, so he gives basic information on how to make investing and other financial activities automatic.
The Millionaire Next Door by Thomas Stanley: Stanley surveyed hundreds of millionaires to discover what they had in common. You'll be surprised at the answer. After reading this, I realized I, too, could become a millionaire.
Rich Dad, Poor Dad by Robert Kiyosaki: Kiyosaki enlightens readers on the principles behind accruing wealth. I'll warn you. Kiyosaki is not a big fan of the public school system, citing its failure to promote financial literacy; however, I am a fan of being wealthy, so I read his book.
Take Advantage of Every Opportunity
I've been paid extra to monitor honors students tutoring elementary students online (translation: I got paid extra to grade papers while they did all the work); I've been paid extra to teach proficiency prep classes after school (translation: I got paid extra to grade papers because three students showed up the first week and I didn't see a single one of them ever again); I've been paid extra to rewrite the district syllabi (translation: I ate 16 chocolate chip cookies, thirty-three bags of Cheetos, and drank eighteen diet cokes…while rewriting the district syllabi). I think you get the point. I've also taught an extra class every year. Although giving up a prep period is a serious commitment—and not something I would recommend to new teachers—it did increase my salary by 20 percent over a nine-month period. Of course, there are always extra curricular opportunities available. This will not only improve your income, it will improve your stature among students. In most cases, however, the pay is nominal, so only sponsor extra curricular activities you enjoy.
Taking Advantage of Extra Time
Very few professionals enjoy the quality of life teaching provides. We spend more time with our families, enjoy more and longer vacations, and leave work earlier than almost anyone, so why ruin that by getting another job? I'll explain. Do something you love and make money doing it. For example, if you're an artist, try to sell some of your art. Musicians, dust off that saxophone, practice a bit, and land a gig. Writers, oil up the typewriter—on second thought, exchange it for a word processor—and sell some articles or stories. If it doesn't work out, who cares? You weren't depending on that money for survival, and you were doing something you love. In addition to peddling your talents, opportunities to make money from home abound. Many teachers have generated substantial income through home-based businesses, direct sales, and other flexibly scheduled activities.There is no shortage of part time, enjoyable, moneymaking opportunities for the industrious educator.
Get Free Stuff!
Getting free teacher stuff isn't that hard. Remember earlier when I counseled you to ignore the "I'm just a poor old teacher struggling to get by. Woe is me!" attitude? That doesn't mean others have to. Be it discounts on car insurance, 15% off at the coffee shop, or two for one entry to the movies, businesses want to show the community how nice they are by helping out poor old Mr. Iworksohardeducatingyourbrattychildwhoyouhaveraisedtobearoyalpainintherear. Take advantage of it. Some clothing stores even offer discounts for teachers. Here are some well known businesses that offer free teacher stuff: Barnes and Noble: 20% off most items with proper identification Book Warehouse: 15% off with proper identification Software Express: Up to 75% off selected items with staff id or drivers license Myeducationdiscount.com: links to various retail outlets offering teacher discounts. Another good source on how to get free stuff as a teacher is your local union's web site or your union office. I've received the following free teacher stuff: discounted movie, concert, and show tickets; discounts at restaurants; reduced rent, discounted attorney services, free dental visits, and maid service. Often the best discounts come by asking for a teacher discount. Most places will create one for you or give you another discount. That doesn't mean spend money you normally wouldn't spend just because something is discounted, but if one bookstore gives me 20% off because I teach high school, I'm buying my books there. Let the government contribute too. The Department of Housing offers discounted homes for teachers, and many school districts around the country offer rent breaks and home-buying incentives. For more information, check out the HUD website .
How to Be Wealthy
Always keep in mind that it's not how much money you make, but what you do with it that's important. As an educator that wants to be wealthy, the first step should be obvious, educate yourself about money and act on that knowledge. I remember the early years of teaching and struggling to meet expenses. I recall the panic I felt when our first child was born and committing to one income for an extended period of time—obviously too much time; we had our second child soon after. I saw great changes take place in our lives as my wife and I committed to raise a family together and become financially independent. It's possible If you are a teacher and have thrived financially feel free to share with me your experience. I and thousands of others are curious.