Classroom Portals or Webpages: A Means of Student-Teacher Communication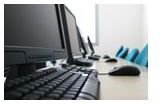 What is a Classroom Portal?
A classroom portal is a webpage that is most often set up through your school district's website and can be a vital form of student-teacher communication. It is a page dedicated to your class that allows you to add or delete pertinent information whenever necessary. The classroom portal is a place where your students and their families can access important information regarding your classroom. If your school does not offer this option, it may be worth discussing with your technology department or webmaster. It is an invaluable tool to parent, trust me…I visit my children's portals almost daily.
The Many Time-Saving Uses
Classroom portals can be used for a wide variety of things. The basic uses include your personal contact information at school, including phone number and email address. Like I mentioned, my boys' school uses them to varying degrees, and on them you can find:
specials schedule, to help remember when to send in library books and gym shoes

daily schedule to help parents know when it might be best to pull a student for a doctor's appointment

spelling words

links to newsletters, so when it gets lots in the child's backpack, there is a copy for parents to reference

upcoming special events

reminders for permission slips and class parties

homework reminders

internet links to help with skills and other themes you may be covering in class

reading lists to help families choose books to read at home

parent volunteer schedules
My oldest is in middle school and they run on this alternating A/B day, maroon/gold schedule. This determines whether he needs gym clothes or not, and whether he has band or art. I can never keep track of the schedule and use the portal daily just to track this information.
He also has a portal for his middle school team, and on that page all of his teachers are listed with links to their personal portals. Next to each teacher, there is a list of that day's homework. A few of his teachers use SMART boards and upload daily notes for the students to access. This is particularly helpful when my son is studying for mid-term exams and other tests. When he is reviewing a concept, he can pull up the teacher's notes from that unit and review what they did in class.
As a teacher, I see some of this as very time consuming and may seem like it is taking some of the responsibility off of the shoulders of the student. As a parent,it is useful and helps me keep on top of what is going on at school. My son does not use it as a crutch, he still writes his homework down daily. We just double check dates and assignments when necessary.
Some teachers even share photos from class parties or field trips, so those parents who could not participate can still see pictures from the event. If your school does not routinely send out a permission to photograph form, you will want to gain permission from parents before posting these types of photos on your portal.
No matter the extent of its use, a classroom portal can be a useful piece of technology in the classroom, allowing you to open up your classroom to your families.