A Guide to Teacher Made Student Awards with Ideas & Free Templates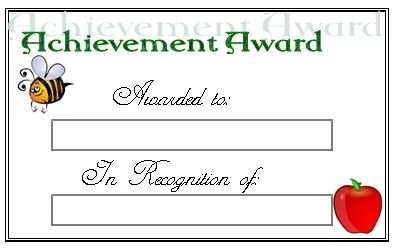 Teacher Made Certificates for Student Awards
One of the easiest and most popular ways to honor students is with an award certificate. Use our free certificate download, to create a
teacher made student award when you have little time to spare. This download just leaves you with the job of filling in the name of the recipient and what award they are receiving.
Download: Free Student Award Certificate
The download is in Word document format so you can complete the text boxes on your computer, and delete the clip art images that you don't need.
For more options, these websites are also worth a look.

Award Ribbon Template

Although award ribbons and rosettes can be purchased plain or printed to order, it is easy for a teacher to make such a student award:
Download: Free Award Ribbon Template
Our free award ribbon template is easy to use and make from using either paper or card. Simply cut out all the pieces, and affix the small shapes around one of the circles evenly. Attach the two longer pieces to the bottom of the circle, and finally stick the second circle over the top to cover up the rough edges.
Award Ribbons & Sashes
If you want to go down the more conventional route when making your student award ribbon, then you can of course just use the template above as a guide, but use ribbon around the circles rather than paper:
Start with a strip of fabric or ribbon, measuring 2 inches wide, by 12 inches long.
Sew or glue the ends together, to make a ring.

Make a large running stitch around the top edge of the ring, leaving thread hanging down at your start and finish points.

Pull these ends together, to ruffle up the ribbon - the smaller the stitch the more gathered the look, the larger the stitch the more pleated the look.

Secure both ends by tying together.

Cut out 2 circles of card. Stick one circle to the center of the rosette on one side, and the other circle on the other, ensuring your stitches and ribbon edge are sandwiched between the two pieces.
If you have some extra wide ribbon, or fabric strips left over, then you could make an easy sash. The length of 40-60 inches of fabric (depending on age) should be enough, cutting each end at a diagonal, and sewing these two edges together. You can add iron-on letters, trim, or fringing for an original design.
Alternative Ideas for Student Awards
If you want to stay away from the traditional student awards, there are plenty of alternative ideas for student awards for teachers to make:
Decorate a beaker or glass with glass paints.

Spray paint an egg cup - younger children especially would love this award, especially if it contained a few jelly beans too.

Decorate a wooden pencil box, with the student's name and their achievement on it. You could print something simple from Word using a fancy font, and transfer it directly, either gluing down and varnishing over the top, or printing it out as a sticker. If it's a flat wooden box you could print out the message onto an iron on t-shirt transfer, cut it out, and iron it carefully (low setting obviously), onto the box. To make the award extra special, put a couple of pencils inside and tie with a ribbon.

There are simple plain cardboard boxes available from craft stores, in a variety of shapes, including letters and numbers that you could embellish; simple rub-on transfers or ribbons could be all that is needed. Put a small gift inside relevant to the award, such as a pocket dictionary for a spelling bee winner.

Present your students with a personalized notebook. Either cover with fabric, using an iron

on adhesive or double-sided tape, or use the t-shirt transfer idea from above. You could also make the award with a themed cover, for example the winner of a nature award could get a notebook with a bark or leaf print on it. Take a close-up picture of your group of leaves, or bark and print it out, again using the printable t-shirt idea and transfer to fabric. You could also print the image onto paper, and cover with sticky-backed plastic. Add an encouraging message or inspiring quote, on the inside front cover for a finishing touch.
Many of these ideas for student awards, can also double-up as end of year gifts for students too, meaning happy students, and a time-savvy teacher.
Resources & Image Credits
https://www.alternative-windows.com/rosettes.htm
https://step-by-step-sewing.com/hp_wordpress/?page_id=3
Chalk board certificate - https://www.dyetub.com/certificates/school/
Award ribbon - https://i177.photobucket.com/albums/w224/EnigmaBomber/awardribbons.jpg
Wooden pencil box: https://i432.photobucket.com/albums/qq42/hatch28/Museum%20pieces/100_1661.jpg
Fabric notebook: https://i1004.photobucket.com/albums/af170/ary111288/08-09Fibers-12.jpg