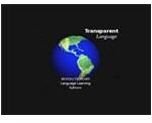 101 Languages of the World is an excellent travelling aid. Whether it's the airport, hotel, restaurant, or the bank, there are countless situations to deal with when you travel to a country where the language spoken is not the one you know.
Transparent Language's 101 Languages of the World gives the traveler or language scholar the foundation for handling these situations with a little fast thinking of their own. The information on their four CDs is neatly transferred to you through games, activities, and language immersion. Vocabulary and speech practice, dictation, and relative dialogue practice for travelers are also inherent in the program. You may think that 4 CDs are a little overwhelming, but of course you don't have to know everything on the 4 CDs. You download only the language(s) you need or want to study. I must admit, taking on 101 languages of the World would be a mighty challenge for even the most applied scholars of language.
Installation & Setup (4 out of 5)
What's Hot:
When I decided to install all 101 languages, it went smoothly going from one CD to another. During this process, be sure to click to allow the desktop access for 101 Languages of the World and Before You Know It (LAB). Once the languages were installed, I went back and installed World Languages Processor version 3.20.
What's Not:
Switching from one CD during the languages download would bring up another Window's Selection for opening the CD. That was unnecessary. I clicked it shut, and continued the download for every CD.
Price to Value (5 out of 5)
What's Hot:&nbsp
Whether seriously studying or just checking out 101 Languages of the World, the $49.99 cost is a very decent price.
Help & Support (5 out of 5)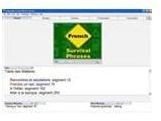 What's Hot:
Technical Support is as easy as a click away. On the Languages of the World selection page, click on the yellow question mark icon in the upper right-hand corner. In the Content column on the left-hand side, scroll to the bottom for Technical Support & Troubleshooting. When this file opens, click on "Getting Technical Support." The telephone number for the United States is (818) 591-6245 and Europe is +44 (0)1752 202507. Their web site is https://www.novadevelopment.co.uk/Support/.
What's Not:
A toll free number would be nice.
User Interface (4 out of 5)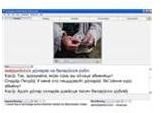 What's Hot:
The 101 Languages of the World user interface on Windows XP is good, real good. Navigation couldn't be any easier. Right off your desktop you can click on the globe icon to start the 101 Languages of the World software. That goes for the Before You Know It (LAB), too.
On the Languages of the World Selection screen, there are three tabs: Immersion Environments, Reference Tools, and Getting Started. These three tabs are easily accessible, and will take you effortlessly to the different learning environments. For content help, click on the Getting Started tab. The two main tabs, Immersion Environment and Reference Tools, are the main environments on 101 Languages of the World for language learning.
To transit from one language to the next, go to the Tool Bar, click on FILE, and then Language Immersion for the selection screen of the languages you have downloaded. Of course, from the FILE environment, you can easily exit the software program if you desire. Smooth traveling all the way.
What's Not:
Small screen photos are all right, but enlargement only makes them blurry. Screen photo enlargements are not recommended.
Product Features (5 out of 5)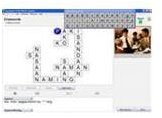 What's Hot:
The combination of the Immersion environment with the Reference environment (which includes the grammar and the Before You Know It (LAB) makes this program a total package for language learning.
In the Immersion Environment the language student has five tabs: Theater, Reading, Activities, Pronunciation, and Conversation. At each level there is a progression to the final tab called Conversations.
The Theater arena is for word, phrase, and sentence practice in different travel situations that the software calls "Survival Phrases."
The Reading arena starts with phrases and builds up to a complete reading about a travel situation. On the lower right-hand side, there is a button to check a grammar point, or a place to add your own notes.
The Activities arena has six areas of language entertainment at its best: Crosswords, Vocabulous!, Word Dictation, Unscrabble, Plug-n-Play, Graffiti, and Sentence Dictation. Flex that brain, and have fun doing it.
The Pronunciation arena is divided into three areas: Listen & Speak, Words, and Sentences. This is the arena where you, fledgling learner, get your practice to take on the big boys, the native speakers. Here, you can match your pronunciation against theirs, and see how close you get to sounding local. It's fun. Tons of it.
When you arrive at the Conversation arena, you have hit the big time. This is your wake up call to what is to come when your plane touches down on distant soil. This is where you want to be. A different conversational dialogue for a different travel situation. Know before you go.
The Before You Know It (LAB) has flash cards that flip back and forth about as fast as your brain can fry. They are an effective way to learn meaning and practice pronunciation. A word of warning though: this software is intuitive. It remembers your mistakes, and presents them to you again until you get it right.
Performance (5 out of 5)
What's Hot:
Transparent Language's 101 Languages of the World is so well structured from a pedagogical and software stance that state-of-the-art and revolutionary language software are not exaggerated claims that this company makes about its product. I simply have to agree, and I confess, I am a perfectionist, and I have been in language for over thirty years.
Suggested Features
In basic conversational dialogues, a variation of possible answers would be nice for the question that is asked. Knowing how to ask a question is fundamental. It is just as fundamental, and necessary, to be able to understand the answer.
Tailored for international travelers, 101 Languages of the World, with its language lab Before You Know It, brings state-of-the-art language software to the market. It covers all areas of language acquisition, and uses the translation method. With its user-friendly UI and rock-solid pedagogical organization, the fun interaction between you and the software will seal the learning experience.
Related Products
Instant Immersion 102 Languages published by Topics Entertainment.
This article has been placed in our archives.