Making Transition Plans For Your Students With Blindness or Visual Impairments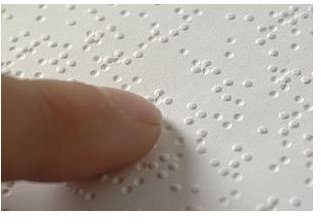 For a student who receives special education services, transition planning should become part of his Individualized Education Plan
(IEP) when he turns 14 or 16, depending on the state. Transition planning examines life after high school and considers postsecondary education, employment, independent living, access to community services, and socialization opportunities. This planning should involve the entire IEP team, including teachers, parents, support specialists for the blind and visually impaired, and adult service providers. The student himself must actively participate in the process, since planning centers around his individual needs, desires, and preferences. His participation will also help him develop and practice his self-advocacy skills, another important goal in the transition process.
Post Secondary Options
When discussing postsecondary educational options for a blind student, orientation and mobility (O&M) skills, as well as the ability to use public transportation, must be considered. O&M skills include the ability to get around new environments independently, cross complex street intersections, and use a cane effectively. College bound students should research public transportation systems and schools, then request an appointment with an O&M specialist through the state vocational rehabilitation agency to familiarize themselves with campus. Scheduling this appointment as soon as possible, as well as bringing a back-up cane (even if the student uses a guide dog), a device to record routes, and other assistive devices, should be done once a college is chosen.
Assisstive Technology
Transition planning should include a discussion of the assistive technology the student currently uses and could use in the future for school and work. Before they graduate from high school, students should have received instruction in computer skills and the use of assistive devices such as screen enlargement programs, reading machines, speech and Braille output devices, Braille embossers, electronic note takers, and talking calculators. The use of these devices will also be addressed with a college or university's disability support specialist when discussing accommodations needed in the classroom. Remember, once a student leaves public education, his responsibilities include providing documentation of his disability to the college, meeting with support specialists, and working with staff and professors to get his academic needs met.
Community Resources
Another important aspect is identifying community resources and social opportunities. Parents should help students join sports programs, social groups, or religious organizations. This aspect of planning not only helps a student build social skills and have fun, but also develops networking opportunities with community members who could provide work or volunteer experiences. Parents, or anyone on the IEP team, may assist in finding a community member with blindness who can mentor the student and demonstrate how to live and work independently, too.
Although transition planning should be revisited during each IEP meeting until a student graduates, parents often need to advocate throughout this process and follow through with transition activities. Many parents and students think planning should begin sooner. Parents and students should begin planning and preparing for life after high school as soon as they can as transition will happen more smoothly and successfully.
References