The Very Hungry Caterpillar Lesson Plans - Integrating Art and Literacy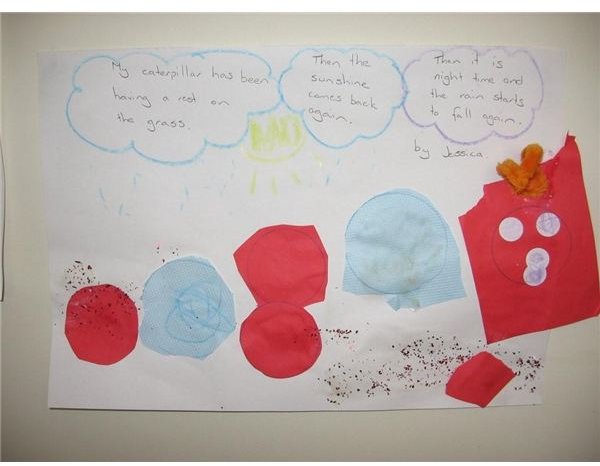 You will need
This project is a useful 'grab and go' activity which can be easily prepared and implemented at short notice, and which crosses the areas of literacy, shared reading activities and art. For these The Very Hungry Caterpillar lesson plans and activity ideas, you will need:
safety scissors or board mounted scissors for students with limited hand function
pipe cleaners
glitter
paste
crayons, pens, texts etc.
several large sheets of paper (eg. butcher's paper)
an assortment of colored sheets of paper (off cuts will do)
a copy of the picture book The Very Hungry Caterpillar by Eric Carle
a large table or bench for laying out art materials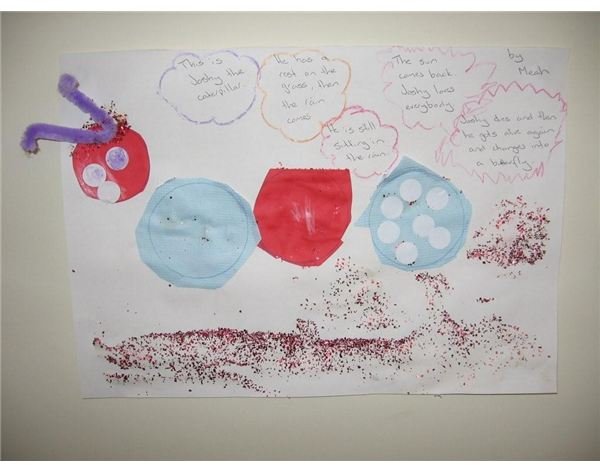 What to do
Introduce the task by talking to students about the process of writing stories and creating characters. Give an example of a character from a story that will be familiar to students, such as the caterpillar from The Very Hungry Caterpillar book. You can extend your teaching about The Very Hungry Caterpillar lesson plans into further sessions by having students draft their own illustrations for the book, create a caterpillar sock puppet, share reading the story aloud using a page by page approach, or ask students to think about a character they could create, and then assist them to use the following process to draft their story about the character:
brainstorm (think of all your ideas)
plan (think about the order of events, and how your story ideas might fit together into a workable story)
draft (create a first version of your story)
refine (work through your story and add, delete, amend as you think is necessary)
edit (correct any errors)
publish (create a final version of the story to be shared with others)
Publication
The publication stage for this project is very simple; assist students to create their character (in this case, the caterpillar) and write their story directly onto the butcher's paper.
For the project shown above, the story was written in stages, which helped the students think in terms of the 'steps' in their story, and to organize their thoughts into a logical sequence. The advantage of this particular approach was that the shape of the circles used to make the caterpillar character could be easily moved around on the paper, and reorganized as needed.
An adult helper could assist in recalling and prompting the order for the story and ensuring it was completed in a logical sequence.
Hands on Learning Skills
For some learners, being able to use hands on skills is important in consolidating and reinforcing what they have learned. For these students, the actions of creating a visual character on paper, and displaying their finishing product in a display area in the classroom, or reading their story aloud is important. Some students may also enjoy reading their story onto a tape, or recording it onto a voice output device operated via a switch. Over time, a combined class story set could be created with interacting characters sharing a story via switching devices (try a product such as the BigMack switch with 2 minutes of recording time) as a way of building early story telling and literacy skills.
As a follow up, work with other teachers in your teaching team to extend your school collection of The Very Hungry Caterpillar lesson plans. You could store your lesson plans and ideas in a plastic tub, with a copy of the book included, so that everything is ready to go for the following year.