Create Opportunities for Public Speaking
Teachers often give assignments that involve research and sharing with a class presenation. However, teachers who teach specific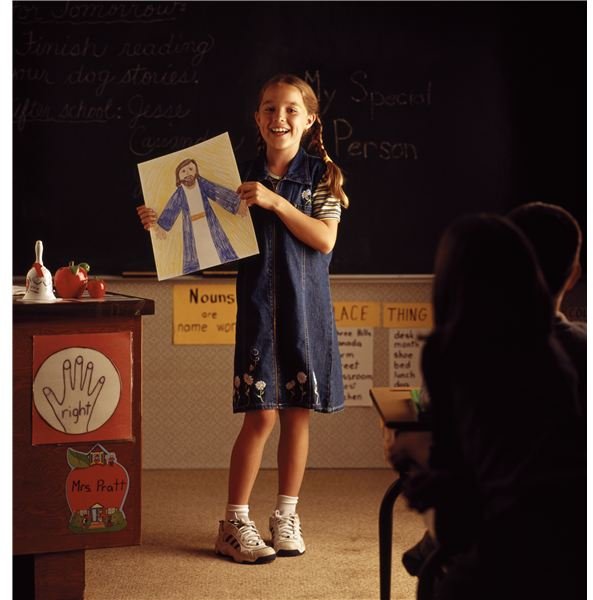 public speaking skills such as using gestures and vocal variety are developing skills that carryover into all areas of the student's life including college, work sites and recreational situations. Public speaking used as an educational tool may involve giving a well practiced talk about an assigned topic or an impromptu topic-both are valuable training tools. Examples of these might be sharing what one did over the summer vacation with a class or explaining a science fair project to the judge and community. The school environment can provide numerous opportunities to practice the following:
Organizing and expressing thoughts
Articulation and speech fluency
Use of gestures, eye contact and other forms of body language
Public speaking skills learned at school or community programs (such as scouting or 4-H Clubs) can have far reaching impact as shown in the case of 13-year-old Shelby Kilpatrick and her 10-year-old twin sisters Lauren and Kaitlyn. They spoke in front of an audience of 14,000 at an environmental conference when they explained how they used a GPS system to create a trail map for their 4- H project. Previous experience with a youth leadership program sponsored by the public speaking club Toastmasters helped them to capture the audience.
Teaching Students with Social/Organizational Challenges
Students with social disabilities such as Asperger's syndrome and organizational related disabilities such as Attention Deficit Disorder can use public speaking as a tool to practice organizing and expressing thoughts around a topic of personal interest. Students have immediate feedback from the audience and if a reward system is in place (i.e. a ribbon for best speaker) the goal oriented student may enjoy a bit of friendly competition. Giving a speech within a time limit encourages the student to think about time management, being succinct and avoiding filler words such as "you know", "um" and "ah". Learning to use eye contact, appropriate gestures, voice volume and vocal variety within the context of giving a winning speech takes the focus off the disability and onto engaging in a friendly group activity.
Public Speaking to Help Students with Physical Disabilities
Students who use wheelchairs or have motor coordination difficulties due to neuromuscular disorders such as cerebral palsy often have decreased self-esteem and confidence. Public speaking unlike sports, does not require physical agility and award winning comedian Josh Blue (who has cerebral palsy) has demonstrated that even labored speech is not a barrier to vocal success. Students can incorporate aspects of their disabilities into the presentation such as demonstrating how special wheelchairs enable them to play soccer or bring in a bit of humor by demonstrating how a cane provides a weapon for self-defense. Public speaking can help students with disabilities to differentiate between when someone is laughing with them and not at them.
Teaching Visually Impaired Students
Students with visual impairments typically don't learn about eye contact and the importance of body language. Yet, these are important skills required for social and professional success. Coaching visually impaired students to look at the audience even when they can't see them will not only help them win a competition, but learn valuable life skills.
Public Speaking Helps All Students
I may have convinced you by now that public speaking used as an educational tool is critical in helping students develop organizational and communication skills, confidence and motivation. But public speaking opportunities should be available to everyone with or without a disability. Indeed, the ability to communicate effectively may lower rates of bullying, depression and other social ailments while at the same time provide a valuable creative recreational outlet.
Resources
Black, B. Toastmaster's Magazine. "How a Hunter Captured His Game". November 2009, page 20.
Bawden Davis, J. Toastmaster's Magazine: "Teaching Presentation Skills to Kids". May 2007, page 6.
Davis, J.B. Toastmaster's Magazine. "Profile: Pushing Past His Disability". January 2007, page 6.
Lunsford, C. Toastmaster's Magazine. "Paulette's Path". December 2008, page 6.