World Culture Lesson Plans: Australian Aboriginal Culture for Special Needs Learners Reading Chapter Books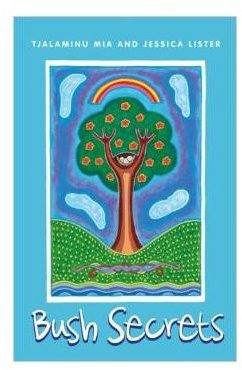 'Bush Secrets' is a first chapter book by Tjalaminu Mia and Jessica Lister (Fremantle Press). It's written to suit a reading age of
around the mid- to upper-elementary level. For special needs learners, it is a great option for those who are reading chapter books. The book is 44 pages in length, divided into six short chapters and supported by black, white and gray illustrations on some pages. It can be read aloud easily by an adult in around 10-15 minutes.
As a book that shares ideas and concepts which are far removed from the experience of children in the US or Canada, it is appropriate to use with students from older age groups, and the tone, language and style of writing used throughout will work well with students up to around age 15 or so. It is also a great option as part of a world cultures lesson plans sequence, with a wider focus on learning about other countries.
Themes From Down Under
It tells the story of the sharing of a special place in the Australian outback, and introduces readers to Australian Aboriginal culture. The story delicately unpacks themes such as:
keeping sacred and special places safe

customs and traditions passed through families and within cultures

relationships within families

Australian Aboriginal culture

being a custodian of the land
For learners with special needs, the above themes can be discussed carefully during short discussion sessions with prompts from the teacher, or by using focus research questions based on wider world cultures lesson plans themes appropriate to your group to allow students to guide the course of their own learning.
A Modified Lesson Plan Using Bush Secrets
Begin with a short geography lesson to introduce the topic. You can use a world globe or map or Google Earth to discover as a group where Australia is. Bush Secrets is based in Western Australia, a large state which comprises one major city and massive areas of outback landscape.
Talk about how different cultural groups have different traditions, and give examples using visual images or props (costumes from different cultures, photos, website visuals etc).
Take students for a walk in the school grounds to find a quiet place to sit and reflect. Ask students to contemplate a place which is, for them, very special. Focus their attention on their senses - what can they see, hear, smell and think about in their special place? Encourage them to keep this place in their minds as they walk back to the classroom.
Depending on student abilities, ask them to record their special place in a way which works well for them. They could draw, paint, make a collage or model or write a short story or cartoon which shares their special place with others, and shows why it is special.
As a group, share the story of 'Bush Secrets' - for students who can read independently, promote the idea of reading chapter books as a shared reading process, with teacher input for tricky sections.
Discuss the story as a group or in pairs if students are able to manage a paired dialogue on a specific topic.
Ask students to then use the same recording method they used for their own special place to record their image of the special place in the story.
Display these images in the classroom by creating a 'special place' display area - use a backdrop of Australian Aboriginal artworks, instruments and other visual images, together with a sound recording if available of a didgeridoo (Australian Aboriginal instrument).
Note - with some special needs learners it is important to discuss the difference between a 'good' and 'bad' secret - my own rule of thumb here is 'if a secret can hurt someone else or is dangerous, it should not be kept. If a secret does not hurt anyone and no one can be harmed, it is usually OK.'
About the Author
Anne Vize is an Australian educational author. Her latest book is 'Australians All' - a teacher resource book for introducing and sharing Australian culture and citizenship with primary (elementary) students. It is published by Teaching Solutions and is available online. Click here for more info about Australians All.