How to Set Up Buddy Reading For Struggling Readers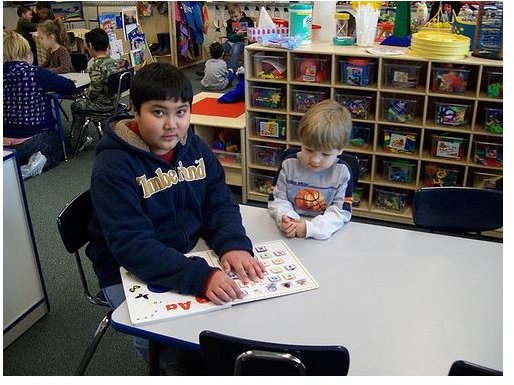 Setting Up Buddy Reading
Many elementary schools contain classes from kindergarten to fifth grade. Some schools even go up to sixth or eighth grade. One of the advantages of having different-aged children in one school is that students working below grade level can still build self-confidence and academic skills by working with students in younger grades. Buddy reading is one of these strategies that you can use to improve reading skills for struggling readers. To set up this program, you will need to:
Identify your struggling readers and their reading levels. You will want to make sure that this is a successful experience for your remedial reading students, and so you want to pair them up with a student who is reading at a lower level than they are. An example of a great match-up is a third grader, who is reading at a low second-grade level, matched up with a kindergarten student who is reading on grade level.
Find teachers in your building, who are willing to participate in a buddy reading program. If the entire class is not participating, then this may mean students could miss some instructional time to participate in the program. This may effect who the teacher allows to become a buddy reader. Make sure to be realistic when you talk to the cooperating teacher about the schedule for buddy reading and how much class time you think it will involve.
Set up a time for buddies to meet when they will not be reading to each other. For example, the buddies should meet and play a game or share a snack. The first meeting should be casual, fun, and give the students a chance to talk with one another.
Allow your struggling readers to practice reading their buddy books before they meet with their buddies. They should be able to read the book fluently and with expression. They should be able to answer simple questions about the story because their buddies may have questions.
Set expectations for how your younger and older students will act during buddy reading time. Model appropriate behavior, so students know what is expected of them.
In some buddy programs, the younger student also reads a book to the older student, who is the struggling reader. Because there is a gap in reading levels, the older student, reading below grade level, still has a chance to help the younger student read. This builds self-confidence.
If you have a lot of boys in your class, try pairing them up with younger boys and concentrating on books for boys.
Reading Buddies at Work