Teacher Aides in the Special Education Field
Teacher aides, also known as teacher assistants or paraprofessionals, are often hired by public school districts in order to work with children who have special needs. In recent years, there has been a shift in special education procedures that encourages the mainstreaming of disabled students among their general education peers. The regular classroom, which is typically large in group size and led by one teacher,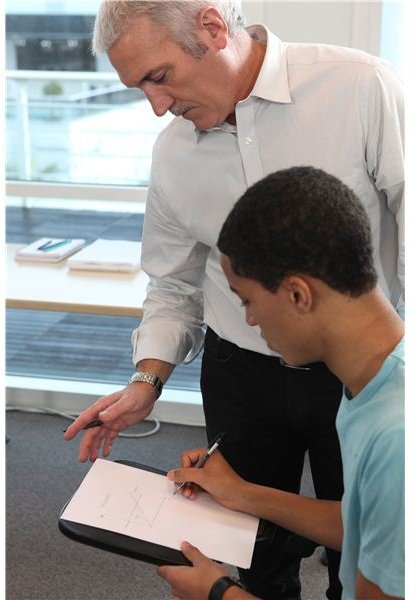 can be daunting for some mainstreamed special education students. Teacher aides help to acclimate these children to the general classroom environment by accompanying them throughout the day and providing individualized attention to academic, emotional, or physical needs.
A special education student who is mainstreamed into a regular education classroom can greatly benefit from having a personal teacher aide. Teacher aides can address a student's specific challenges in a timely and effective manner so that the main classroom teacher can stay focused on the group as a whole.
For example, a teacher aide who is trained to work with a high-functioning autistic student can give the child prompts to communicate with classmates, while a teacher aide who is trained in the area of physical disabilities can help a student with writing, bathroom tasks, and getting on or off the school bus. Some mainstreamed special education students work with a specific aide on a long-term basis as they advance through grade levels, while others may be assigned to several part-time teacher aides. As a student enters high school, teacher aides can assist with the participation in community or career programs.
Qualifications for Teacher Aides
Teacher aides who work in the special education field are required by most states to have earned an associates degree. They need to have thorough knowledge of how to appropriately teach and assist a special education student. When working toward a degree, aspiring teacher aides take courses such as, "Teaching the Exceptional Child," "Human Growth and Development," and "Introduction to Teaching." These courses are designed to prepare teacher aides for their role in helping mainstreamed special education students in a general classroom environment.
Some states also require teacher aides to be certified as licensed professionals. This process involves passing background checks, enrolling in relevant courses, and taking the state-specified exams. Those who embark on careers as teacher aides will have very good prospects for job opportunities in special education, as they are greatly needed in inclusive educational environments. The relationship between teacher aides and special education students is often enriching and rewarding for both parties.
Reference Links
Wetzel, David. Teachers Aide Continuing Education, on suite.io.
Bureau of Labor. Occupational Outlook: Teachers Assistants.