Integrating Spanish Culture Into Study of the Spanish Language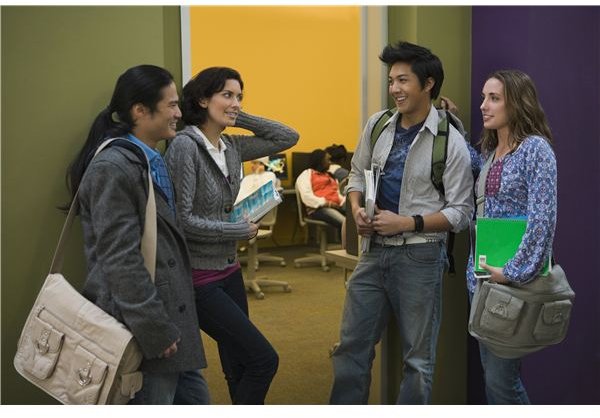 Defining Culture
Culture encompasses a society's arts, entertainment, manners, scholarly pursuits and everything people learn to do. These ideals are
passed from generation to generation through family, schools and communities. According to the Merriam-Webster dictionary, culture is "the integrated pattern of human knowledge, belief, and behavior that depends upon the capacity for learning and transmitting knowledge to succeeding generations; the set of shared attitudes, values, goals, and practices that characterizes an institution or organization; the set of values, conventions, or social practices associated with a particular field, activity, or societal characteristic."
Why Integrate Culture Into Language Study?
Teaching Spanish culture is an important step for students learning a foreign language. Language is a piece of every culture, and for students to be successful they must understand and appreciate cultural features like Spanish art, holidays, festivals, clothing, manners and song. Understanding Spanish culture encourages students to become competent members of society and develop confidence in their abilities. For example, students are more comfortable in social situations if they are dressed in the appropriate clothing and are familiar with common Spanish dishes.
Incorporating Spanish culture into your lesson plans can be difficult with an already crowded curriculum. However, teaching Spanish culture will show its importance and benefit as the students will have a more complete grasp of the language. Look for ways to work Spanish culture into your lesson plans naturally such as with the celebration of holidays and festivals. Celebrate the day in your class along with a mini-lesson on another topic, or ask the students to prepare a short dialogue about the holiday. Select a few days each month to teach Spanish culture. Remember these don't have to take the entire class period, but split the time with a short lesson. Share music, dance, clothing, literature, food, art and other cultural items.
Bringing It Into the Classroom
Culture varies greatly in the different regions of Spain and other Spanish speaking countries of the world. Here are a few ideas for teaching Spanish culture with an emphasis on Barcelona, Spain. Barcelona is known for its cultural flair, unique style and proud regional identity. Barcelona is part of Catalonia and did not become part of Spain until the 15th century.
Language
Locals speak both Catalan and Spanish. Most often, you'll hear Catalan first. Play recordings of Catalan and ask students to listen for phrases they recognize. Provide students with a short writing in Catalan, translated to English and Spanish. Notice similarities and differences in the language.
Art
Two artists, who spent considerable time in Barcelona, were Antoni Gaudí and Pablo Picasso. Gaudí's influence can be seen throughout Barcelona, including La Sagrada Família, Park Güell, and the Casa Batlló. Provide images created by these two artists for students to analyze and discuss. Encourage students to be proactive. For example, La Sagrada Família is still under construction and funded completely by donations. Suggest students hold a fundraiser such as a bake sale featuring Spanish foods to raise money, donating the proceeds to the La Sagrada Família building fund.
Food
Prepare a variety of foods when teaching Spanish culture. Tapas, Spanish appetizers, are popular in Barcelona. Due to its location on the Mediterranean Sea, many dishes include seafood. A few essential ingredients to any dish in Barcelona is olive oil, garlic and tomato such as pa amb tomaquet - sliced bread, rubbed with fresh tomato, olive oil and garlic. Barcelona dishes tend to be more creative than in other Spanish regions such as mixing raisins and nuts with vegetables or cooking poultry with fruit. For older students, provide simple recipes and ask them to prepare the dish for class.
This post is part of the series: Teaching Spanish Culture
Incorporating Spanish culture into the study and acquisition of the Spanish language, including an emphasis on several Spanish speaking countries.