Spanish Terms Identifying for Medical Professions, Including Quizzes
List 1 - Medical Occupations
anesthesiologist - _**el anestesista

**_

cardiologist - el/la cardiología

chiropractor - medico quiropráctico

coroner - el médico forense

dermatologist - el dermatólogo, la dermatología

doctor - el doctor/la doctora

gynecologist - el/la ginecoliá

neurologist - el neurólogo

nurse - la enfermera, el enfermero

obstetrician - el/la obstétrico

oncologist - el/la oncologista

ophthalmologist - el oftalmólogo

optometrist - el/la optometrista

orthopedist - el/la ortopedista

paramedic- el auxiliar médico

pathologist - el patólogo

pediatrician - el/la pediatra

phlebotomist - el/la flebotomista

physician - el médico

podiatrist - el/la podiatrista

proctologist - el proctólogo

radiologist - el radiólogo

stretcher bearer - el camillero

surgeon - el cirujano

surgical nurse - la enfermera del instrumental

urologist - el/la urologista
List 2 - Conditions/Diseases They Treat
backache - el dolor de espalda
broken bone - el hueso roto
cancer - el cáncer
cataract - la catarata
cesarean birth - el nacimiento por cesárea
disaster (as a result of an accident) - el siniestro
epilepsy - la epilepsia
foot injury - la herida del pie
give birth - dar la luz
heart attack - el ataque al carazón
ingrown nail - el uñero
hemorrhoids - las almorranas
medical emergency - la urgencia
pimple - el grano
phlebitis - la flebitis
pregnant - embarazada
tumor - el tumor
urinary infection - la infección urinaria
whooping cough - el coqueluche
List 3 - Where They Work and What They Do/Use
ambulance - la ambulancia
anesthetic - el anestésico
antibiotics - los antibióticos
appointment - una cita
autopsy - la autopsia
blood test - un análisis de sangre
blood type - el grupo sanguíneo
blood-pressure - la presión sanguínea
cast - el enyesado, la escayola
chemotherapy - la quimioterapia
diagnosis - el diagnóstico
E.R. - sala de emergencia
examination - el reconocimiento médico
first aid - primeros auxilios
hospital ward- la sala
medication - las medecinas
microscope - el microscopio
needle - la aguja hipodérmica
operation - la operación
pain killer - el analgésico
physical examination - el examen médico
prescription - la prescripción
scalpel - el bisturí
splint - la tablilla
stethoscope - el estetoscopio
stretcher - la camilla
suture (stitch) - la sutura
X-ray - el rayo X (pronounced ekis)
Suggested Classroom Activities
This list provides an opportunity for students to build both their English and Spanish vocabularies. Particularly, the teacher should review List 1 to make sure students know what each profession specializes in. Go through the list in class and ask for volunteers to tell the class what they know about each profession listed. Any English terms that stump the class can be assigned for lookup.
The list can be used in the exercise suggested in Part 1 of this series by dividing the class into three groups, having the students circulate and confer with other students and using the suggested worksheet for vocabulary building.
The list can also be used in conversational practice as follows:
Pair off the students and assign an appropriate number of terms from List 1 to each group. Students are to compose sentences using their assigned term from List 1 and adding at least one term from List 2 or List 3.
Examples:
El anestesista da los anastésticos al paciente durante la operación.
El médico forense performa una autopsia.
Consider adding a vocabulary matching quiz with selected vocabulary from this list. (Sample quiz follows this section.) A link to a sample downloadable quiz is available in the next section.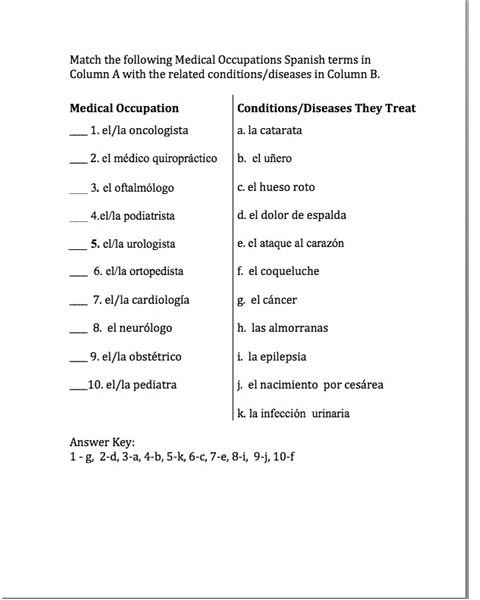 Downloadable Vocabulary Sheet
You can click on the image above and print it for a medical vocabulary quiz. You can also download another Spanish quiz about medical occupations by clicking this link.
Additional Medical Spanish Information
Read A Translation Handguide for Spanish-English Medical Terminology, downloadable here from Bright Hub Education
Access an English/Spanish Medical Dictionary, available from 123TeachMe.com
This post is part of the series: Teaching Spanish Medical Vocabulary
Spanish students can enrich their vocabulary by focusing on specialized terms. This series provides specialized Spanish vocabulary lists relating to conditions, occupations and specialized equipment relating to the medical field. Also included are classroom handouts and sample classroom activities.