Who Was Frida Kahlo: Biography of an Artist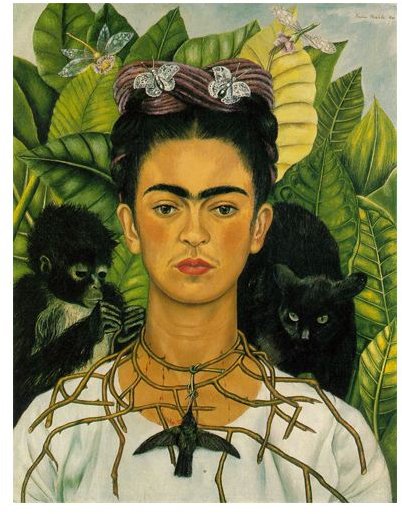 Curiouser and Curiouser
Frida was born in Coyoacán Mexico in 1907 and was an inquisitive child, bringing home rocks, insects, plants and small animals. Her father, Guillermo, a photographer and amateur painter, encouraged that passion and shared his love of architecture and ancient Mexican art with his favorite daughter. In turn, if her father had an epileptic seizure when they were together, she knew what to do to help him.
Dealing
Frida often used her imagination for make-believe and also painted images that helped her to deal with unpleasantness all through her life. At age six she suffered from polio, which made one leg thin and weak (the muscles essentially stopped growing). In her parent's efforts to help, she took up swimming, bicycle riding, soccer and even boxing (an unusual endeavor for a young girl at the time).
Despite all the attempted body building, she still endured relentless pain and teasing from her classmates who coined her "Frida peg leg." As a consequence, she often chose to wear long dresses or pants to cover her affliction.
In school, she was so unruly and mischievous that the principle wanted to expel her. Once, a famous painter came to her school to work on a mural and Frida soaped the steps thinking maybe the large man would take a tumble. His name was Diego Rivera.
The Angst of a Child
She suffered other childhood illnesses and at one point doctors suggested she eat strained food to build up her strength, despite the fact she had no appetite. She was disgusted by being forced to eat and one painting reflected that.
It shows Frida in bed outside (the sun is out), and over her bed is a cantilevered frame filled with pureed foods, some of them lifeless meat carcasses. She is underneath forced to swallow. Tears are running down her cheeks. It's called Sin Esperanza (Without Hope). It is startling—like many of her paintings—but you are compelled to look as if drawn to a magnet. That's why her art fetches millions today.
Art Influence
At age 15, she went to one of the most prestigious high schools in Mexico City, the Preparatoria (National Preparatory School); only the brightest students were accepted. She became part of the Red Cap group, who rode a donkey down the hall for a prank and often talked about how they would change the government.
The group took notice of the aftermath of the 1910 Mexican Revolution, where the common people were poor and had worked relentlessly for a corrupt government. This created an uprising led by men such as Pancho Villa and Emiliano Zapata, folk heroes who won the struggle for the people.
To commemorate their efforts, the Mexican government commissioned artists to depict the scenes on the walls of public buildings. That is how Frida met Diego Rivera, a muralist, once more.
Teenage Frida was an imp still, and teased him, but she watched Diego Rivera in awe and soaked in his inspiration. He was a brilliant, masterful painter.
Art after Tragedy
She wasn't actively painting then, but something horrible happened that changed the course of her life. She and a boyfriend were in a terrible bus accident that left several dead. She was badly injured when a metal handrail went straight through her pelvis. Her already weakened leg was fractured, her foot crushed and her bones weren't knitting together as they should.
Her sister Matilde came every day while Frida was resigned to bed (it upset the parents too much to visit!). In the coming years, she would wear many plaster corsets and even a metal one. She had multiple surgeries over her lifetime as a result.
Once, Matilde hired a carpenter to build an easel so Frida could paint while lying down on her back. Frida took the time to study master artists from books and taught herself to copy them, developing her own unique style. She painted portraits of her sister and friends who visited. Often alone, she looked in a mirror and painted herself.
Power in Religion, in Self and in Love
After Frida was well enough, she made up her mind to ignore the pain and live her life. Frida found power in both religious art and art that depicted Mexico's people in their daily lives.
At a party, she was introduced to Diego Rivera. He didn't remember her because she was all grown up. A few days later, when Diego was painting a mural, she went there and yelled up at him as he worked on a scaffold, "Mr. Rivera, come down. I want to show you something."
He was enamored by her style. He had traveled the world as a decorated and respected artist— Picasso was his friend—and he recognized great art. She shared a few of her paintings with him and that was the beginning of their relationship, culminating in marriage four years later when Kahlo was 22 and Rivera 42. They were an odd looking couple, Frida Kahlo and Diego Rivera. Her father once called them "the elephant and the dove."
Self-Portraits
Frida wore many long dresses and had a Bohemian style of fashion. She wore shawls, lots of dangly jewelry, a romantic red lip, her hair pulled into a bun, often pinned with a flower. The most surprising thing may be that she always painted a unibrow—thick eyebrows that ran straight across (they sometimes looked like the wings of a bird) above dark brown peering eyes. Occasionally she would paint her face with black hair on her upper lip.
Often she included her favorite objects in the background or foreground to round out the paintings, such as flowers, ancient gods or icons. Most often, she would include her pet spider monkeys Fulang Chang and Caimito de Guayabal. She had a small menagerie of pets including an Amazon parrot named Bonito, a hairless Mexican dog and an eagle, aptly named Gertrudis Caca Blanca (Gertrude White Poop.)
It was said that Frida never smiled in paintings because her teeth were bad.
Commissions and Life
The lovers traveled the country and had an open, modern marriage that made headlines everywhere they went. They went to parties of the rich and famous. Frida did not like the big cities in the United States where Diego often worked, and she complained about the garbage and urban blight. Their poetry to each other in letters when they were separated is the stuff of fairy tales.
Later, she tried to mentor young artists, teaching at an Academy for as long as she could. The shooting pains in her back took their toll. She had 14 surgeries in 16 years, her leg had turned black from gangrene and she died of ill health in 1954. Afterward, Diego was never quite the same.
Legacy Finally Earned
It took 20 years for Kahlo's painting to become a sensation and for her to be well known in the United States. Frida was not only the wife of one of the most celebrated artists in the world, she was a great artist herself. Fridamania swept the United States and pop culture has her image on everything from gift bags, keychains and china to clothing, tiles and cupcakes.
In a recent Detroit, Michigan exhibition of their works it says, "Diego Rivera and Frida Kahlo were an explosive couple. He carried a pistol. She carried a flask. He romanticized Detroit. She rejected it. But what they shared was a belief in communism, a thirst for tequila and a passion for each other."
References
Venezia, Mike. Frida Kahlo. New York: Grolier Publishing, 1999. Book.
Firth, Margaret. Frida Kahlo: The Artist Who Painted Herself. New York: Grosset & Dunlap, 2003. Book.
Reef, Catherine. Frida & Diego: Art, Love, Life. Boston: Houghton, Mifflin Harcourt, 2014. Book
Material Culture, Vol. 44, No. 2, Special Issue: Art as Material Culture (Fall 2012), pp. 1-20
Pankle, Lis and Kevin Blake. Made in Her Image: Frida Kahlo as Material Culture
Image Source: Frida Kahlo, Self Portrait - Fair use
Sabbeth, Carol. Frida Kahlo and Diego Rivera—their lives and ideas. Chicago: Chicago Review Press, 2005. Book.