History of Food: How, Where and When Was Ice Cream Invented?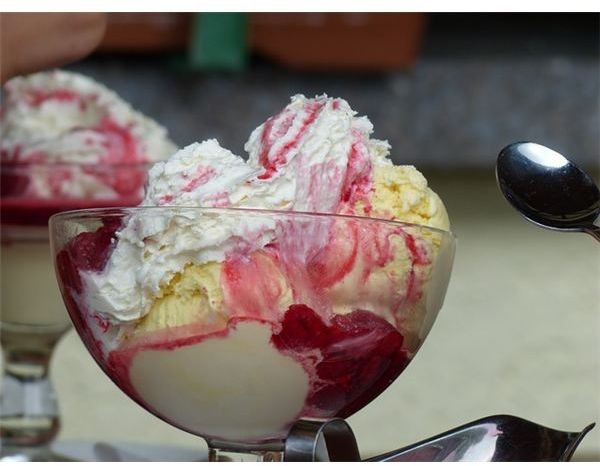 History
The Emperor of Ancient China some 200 years before Christ, and the Roman emperor Nero (37-68 A.D.), are believed to have indulged in ices. King Tang of China is credited with using milk concoctions—probably goat or sheep's milk or even rice milk—for a creamier version.
Author Maguelonne Toussaint-Samat in her History of Food says, "…the Chinese may be credited with inventing a device to make sorbets and ice cream."
Freezing and Chilling
Back then, refrigeration as a preservation process was possible only where there were supplies of hard natural ice. The Chinese kept winter ice for summer use as early as the 18th century by building icehouses kept cool by evaporation. During the Tang dynasty, they learned to collect huge blocks of ice from the mountains or frozen rivers and ponds and buried the cold slabs in caves or underground pits that acted as giant refrigerators.
The Mughal emperors of India sent relay teams of horsemen to bring ice and snow back to Delhi from Hindu Kush, a huge mountain range, although this appears to have been intended for immediate use in fruit sorbets. According to Reay Tannahill, author of Food in History, "The same …was true of the ice for Italians (or Sicilians) collected from the mountains for ice cream that is believed to have been their 16th or early 17th century invention."
Icehouses became a common feature in Europe's noble homes and estates by the 18th century and had been known for longer in the United States, where the Shaker's—an insular religious community—had icehouses with heavy-timbered double walls, insulated triple roofs and stone floors.
Good News Travels
Historians believe Marco Polo returned to Italy from the Far East with a recipe that is similar to what we now call sherbet, which is a fruit and milk based ice. Ice cream aficionados surmise that this basic recipe progressed into ice cream sometime during the 16th century. The serendipitous discovery for ice cream seems to have hit England and France about the same time. "Cream ice," as it was called, appeared regularly at the table of Charles I during the 17th century and may have been on Henry the II's table as early as 1553 when he wed Italian Catherine de Medici.
A letter written in 1744 by a guest of Maryland Governor William Bladen is described as the first official account of ice cream in the New World. The New York Gazette boasts that the first advertisement for ice cream came on May 12, 1777. In the copy, Philip Lenzi said that ice cream was available, "almost every day." As further proof that ice cream was only available to the wealthy, records show President Washington paid about $200 for the treat in the summer of 1790, which would be over $5,000 today by some calculations.
Progress and Technology
The advent of icehouses some 250 years ago meant people could make ice cream year round. Refrigeration followed in the 1830s, meaning foods could be kept cold. Factories were making and storing ice by the 1850s. Baltimore milk dealer Jacob Fussell was producing more cream than he could sell and tried making ice cream with the leftovers. Before long, he was making more money from ice cream than from milk. He soon turned his business into a full-time ice cream factory.
Fast Facts
In 1919, candy store owner Christian Nelson invented a dessert called the I-Scream Bar—a vanilla ice cream block with a thin chocolate coating. Nelson gained a patent, along with mass production rights with chocolatier Russell Stover for the now famous Eskimo Pie.
Harry Burt, another American confectioner, improved on Nelson's idea by inserting a wooden stick into his ice cream bar. (His daughter liked Nelson's treat but thought it was too messy, so she suggested putting in a stick like her father's lollipop.) He sold his as the Good Humor Ice Cream Sucker.
Fun Facts
The most popular flavor is still vanilla followed by chocolate chip mint and cookies and cream.
Ice cream "Sundays" were first served as a special treat on Sundays. The spelling changed to sundaes when people began ordering them daily.
Ice cream novelties are defined as separately packaged single servings of a frozen dessert, such as ice cream sandwiches or fudge sticks.
In 1904 at the St. Louis World's Fair, an ice cream vendor ran out of paper cups to scoop ice cream into, so a waffle maker in the next booth offered some of his waffles. It was the beginning of the ice cream cone, even though Antonio Valvona patented his own "apparatus for baking biscuit-cups for ice-cream" in 1902.
Almost 10 percent of all milk produced by cows in the United States and Canada is used to make ice cream and Americans eat a lot: annual consumption averages about 15 quarts (14.2 liters) per person. According to the International Dairy Foods Association, 1.53 billion gallons of ice cream and related frozen desserts were produced in the U.S. in 2011.
References
Snyder, Inez. Milk to Ice Cream. New York: Rosen Book Works, Inc. Book.
Fleisher, Paul. Ice Cream Treats: The Inside Scoop. Minneapolis: Carolrhoda Books. Book.
Tannahill, Reay. Food in History. New York: Crown Publishers. Book
Gibbons, Gail. Ice Cream: The Full Scoop. New York: Holiday House. Book.