The Meaning Behind the Wedding Tradition: The Father Giving His Daughter Away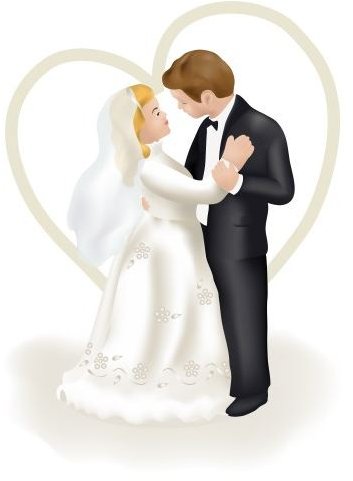 Here Comes the Bride: A Historical Perspective
Here it is – the "Big Day." The bridesmaids have gracefully glided down the aisle and the crowd of invited guests goes silent. The
doors to the grand entrance of the church open and in walks the bride, ready to be accompanied by her father down the aisle on a journey to happily marry the love of her life. As this is a timeless tradition at many weddings around the world, the father of the bride has played a major role in the presentation of the bride to her groom.
In ancient times, it was very common for female children to have either arranged marriages or be purchased by their future groom so-to-speak. The root word "wedd" of Anglo-Saxon derivation actually means a "pledge" or "vow". This either referred to the groom vowing to marry the woman or it meant the barter money or trade agreement with the bride's father for his daughter. The actual word wedding refers to a "wager". Therefore, the bride's father would setup a type of contract with the groom that he would barter for land, social status, or even political reputation, which back then was as significant as it is today.
A female child in those days was known to be property of her father and so the transferring of "ownership" to her groom on her wedding day was indeed a legality. The tradition of "giving away" would signify that the bride's family would no longer have control over her or her possessions (dowry) and that her husband would respectfully take on the responsibilities and obligations that her father once boasted.
The tradition of taking his hand and placing the groom's on the bride's is symbolic of the "passing" of his property or duty.
The Meaning Today
What does a father's act of passing off his daughter to his future son-in-law mean today? Do they still have a contractual agreement? No, of course not. It is more of a symbol of his blessing and wish of good health and happiness to the couple. In fact, in modern times, the mother is often more involved in some situations as the parents together may be asked the question of who gives the bride away by the officiant.
Here is the most popular format used:
Clergy/Officiant: "Who gives this woman to be married to this man?"
Parental Response: _"I do", "_We do" or "Her mother and I do."
Clergy/Officiant: "Who presents this woman to be married to this man?"
Parental Response: "Her mother and I with hearts full of love bless this marriage. We ask that you care for her and love her unconditionally as we have."
Times are changing, however, and traditional wedding ceremonies are becoming a thing of the past.
The Modern Bride
New family lifestyles have attributed to current wedding standards with new ceremonial twists. The end result – still wedded bliss. How, though, has modern times influenced a modern bride?
Due to divorces, widowing, remarriages, and female empowerment, there are various situations that now occur during a wedding ceremony. A bride now has to decide in a special situation like this, who will accompany her down the aisle, if applicable, and how it will be addressed during the presentation of the bride part of the ceremony.
For example, if a bride has divorced parents, who will escort her? Her mother or father? In some cases, the bride has chosen the mother, for she has been her primary caretaker and has been closer to her daughter growing up.
However, in some situations (including my own), the bride's parents are divorced and remarried, introducing a stepfather into the scene. In this case, the bride may wish to have both her "fathers" walk her down the aisle and give her away so not to hurt anyone's feelings. At my wedding ceremony, I chose to have both my father and stepfather walk me down as they both have played an integral part in my life. In fact, you may even wish to have them split the father/daughter dance at the reception as well!
There are also instances where the bride's father has passed, and decides either to have her mother, a sibling, grandfather, or uncle walk her down and present her at the altar. She may even choose to walk into her groom's arms independently, for in today's society, females are becoming more empowered. There also may be a situation where this is the bride's second wedding and has children of her own from the previous marriage. It may then be the bride's decision to ask the children to present her to her groom and the congregation. There may even be parental loss where the bride chooses to walk down alone as well.
Here is a typical ceremonial line in this case where the clergy approaches the entire group of guests/witnesses:
Clergy/Officiant: "Bride's name" and "grooms name" will need your love and support during their marriage, not only today, their wedding day. To offer your support and blessing, please respond, "I do" to the following question: Who offers support and blessing to this couple?
Guests' response: "I do."
There are several ways and circumstances for a bride to be "given away", as there is no set-in-stone method. A bride and her family have the right to choose how she wants the biggest day of her life to play out.
While a father's love is forever enduring and the life he and his daughter have shared under the same roof will never be forgotten, she now has the opportunity to begin her own life as a married woman and start her own journey into the future. Some may call it "giving her away" and some may call it "giving her his blessing", but a father really gives the best of his love on that bittersweet day in time.
Read More About It in Bright Hub Education
The Customs Behind the Bridal Bouquet
Family and Consumer Science Lesson Plan on Weddings