Budgeting a Wedding: A Middle School Family & Consumer Science Lesson Plan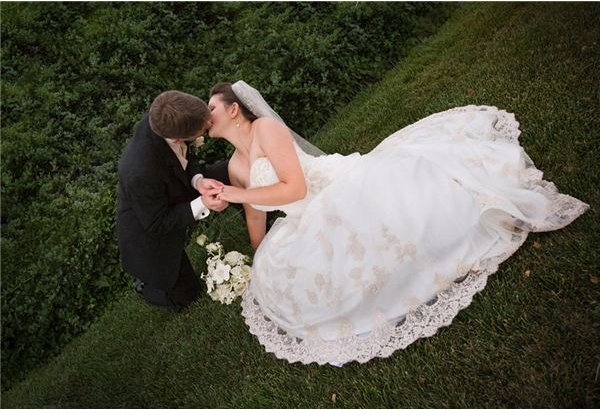 All about the Big Day
Regardless of the fact that many of our students are groomed for college, there is still a strong emphasis in our society to marry at a young age. Equally as intense is the drive to have a wedding that is bigger and better than anyone else's. These situations make teaching a family/consumer sciences and wedding lesson plan all the more pertinent. Students need to be able to critically evaluate what is "needed" and what is simply "wanted" before the emotions of their special day carries them and/or their parents away into heavy debt.
Objectives
Students will analyze what is needed for a legal marriage as well as what people might want in their weddings.
Students will track the cost of the wedding they design and be able to justify their choices.
Students will compare and contrast the costs of various components of a wedding, such as photographers, caterers, etc.
Students will explore the history of weddings, the symbolism within weddings as well as what makes a wedding meaningful.
Students will design a wedding, explaining and discussing their choices.
Task
The main task of this lesson is to design a wedding that is cost effective as well as meets the needs and wants of a couple.
Divide students into pairs. Each pair can choose to be a "couple" or wedding planners. Couples will be planning their wedding on their own. Wedding planners will be planning for anonymous couples. The wants and desires of the anonymous couples will be given to each wedding planner pair. (Click here for a list of anonymous couples.)
Using bridal magazines and websites, each pair will design a wedding. Their weddings will include:
bridal gown
attendants' gowns
groom's tux
attendants' tux
place for wedding
place for reception
food
photographer
favors/gifts
order of service (like a play program - tells people what is happening and who is doing it)
honeymoon plans
Students will compare and contrast ways to meet (for couples) their needs or (for wedding planners) the needs of their clients.
They will keep a running account of costs for each component of the wedding.
Students will prepare a presentation of their findings using whatever means they choose (PowerPoint, poster presentations, video, etc.)
They will write an order of service complete with vows and readings.
(Note: Students should be allowed to do this in whatever way they desire. If they wish it to be non-secular, that is fine. If, on the other hand, they wish to use their faith traditions, this is also fine.)
Assessment
At the completion of this assignment, student will be assessed on
their ability to complete the task of designing a wedding
their ability to discuss choices made
their creativity of their presentation
their ability to keep costs low without compromising on the meaningfulness of the wedding*
their ability to explain the history and culture surrounding weddings
*Creating a "meaningful" wedding is an important element to this assignment. Going to a JP or Notary before stopping at a burger shop is not what this assignment is asking the students to consider. The idea is to keep cost low while keeping the reason for the wedding (two people committing their love for each other) as the main purpose for their design.
All in the Meaning
Whether a bride wears her great-grandmother's gown or a designer original, whether the reception is held in a garden or at the Ritz, whether those attending are served homemade chili or prime rib of beef, when all is said and done, the purpose of a wedding is to recognize two people's love for each other. This is the main theme taught in this family consumer sciences and wedding lesson plan. The students' ability to grasp this concept can leave a lasting impression.
Photo: By David Ball (Own work), via Wikimedia Commons