Cat Lesson Plan & Craft for Preschool with "Nobody's Nosier Than a Cat"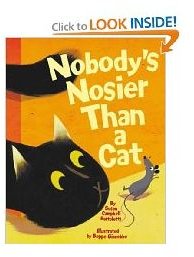 If you were to take a quick survey in any classroom by asking the students who actually owns a pet, there is likely to be at least one in your presence that has a cat. Cats are some very finicky creatures, but they are also highly intelligent. Almost every person has had an encounter with a cat - be it positive or negative. Cats are one of the most common pets you will find in any average home around the world. These domesticated creatures have made their way into the hearts of many pet owners, who feel that they are a highly regarded family member.
This cat pictures lesson plan for preschoolers is fun and informative for your children. It will rekindle or deepen their love for one of the most common pets on the globe.
The Book
Nobody's Nosier Than A Cat, a book written by Susan Campbell Bartoletti and Beppe Giacobbe, will help bring this cat pictures lesson plan for preschool classrooms to life. This book has a combination of great rhythm in its text, and awesome illustrated depictions that will excite the children. This book has reviews that rave about its overall content and the effect it had on the children they read it to, including one who said this;
"What a very catchy, fun book to read! My 2-year-old loves this book from beginning to end. He laughs, he likes to look at the fun pictures and he likes to repeat the phrases." [1]
Prior Knowledge
Discussion - You and your class can begin your discussion after reading this awesome book. Ask your students who has a cat at home or knows someone who does. You can have them talk about any "cat story" they have. You can ask them if they know what sounds a cat can make. Ask the children if have they have pet a cat before or know what cats eat. Continue the discussion until you feel the children have a good, basic understanding of cats.

Pictures - Bring in at least four to five different pictures of cats. These can be photos of playful cats, sleeping cats, relaxing cats, posing cats, dressed up cats, cats on high places, or cats with other animals. Hold the pictures of the cats up and talk about the pictures with the children. Allow them to use their imagination and come up with a story for the picture - relaying what they think this cat was doing when the photo was taken.
Drawing
Use these coloring pages or have the children draw a picture of cats. Ask the children to pick out a cat from one of the pictures you showed them and draw a picture of the cat they chose. This is a great way to hone in on their artistic skills and it will be fun looking at their interpretation of your photos.
Cat Face Craft
Materials: construction paper, glue, scissors, large movable plastic eyes, colored pom-pons
Instructions: Cut out a large circle with will be the cat's face. Cut 3 strips of 1/2 inch pieces of paper, for the whiskers. Cut those strips in half. Cut out triangles that are the same color of the face for its ears. Cut out smaller triangles in a different color like pink, for the inside of the cat's ears.
Assemble: Glue the eyes onto the cat's face. Glue the smaller ears centered inside the larger ears and glue them onto the face or head. Glue the small strips at angles to give the appearance of whiskers. Glue the nose onto of the whiskers to complete the face.
Cat Ears
Materials: stapler and glue, markers or crayons, construction paper
Instructions: Cut a two-inch thick strip of construction paper, and measure it around the child's head, then staple it twice. Cut out two large triangles same color as the band, cut two smaller ones pink that will be centered in the larger triangles and glued. Glue the double triangles onto the front part of the headband and let dry.
Cat Face Painting
Use a washable marker and draw a circle on the tip of the child's nose. Draw their whiskers by three smooth lines from their nose and spread out over their cheeks. Have the children wear their cat headbands and ears, allowing them some time to become an imaginary cat, themselves.
Have fun with these cat activities; I am sure it will bring out the cat lover in everyone!
Cited Source
[1] "Customer Reviews: Nobody's Nosier Than A Cat". Amazon.com. June 29, 2009 https://www.amazon.com/Nobodys-Nosier-Susan-Campbell-Bartoletti/product-reviews/0786816147/ref=dp_top_cm_cr_acr_txt?ie=UTF8&showViewpoints=1.