Pet Lesson Plan for Preschool Using Franklin the Turtle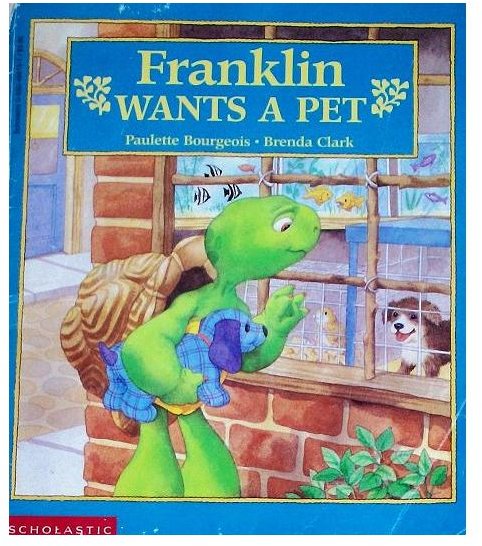 Pet Lesson Plan for Preschool Using Franklin the Turtle
Whether or not they have a pet, young children are fascinated by animals. This preschool lesson plan is designed to teach children about different types of pets by using Franklin the Turtle and his quest to choose and have a pet of his own. Preschool students will learn basic facts about family pets and the environments in which pets live. They will practice animal recognition and matching skills.
Prior Knowledge
This pet lesson plan works nicely in conjunction with a study about animals or family. If possible, arrange to bring in a small pet for the class to interact with or invite a student to share a pet from home. Another option is to plan a small class field trip to the local pet shop to allow students a hands-on experience with animals.
Teach
Gather the students together and read the book Franklin Wants a Pet by Paulette Bourgeois and Brenda Clark.
To open the discussion, ask the children to raise their hands if they have a family pet. Even preschool students who don't have a pet should be familiar with most of the common ones. After determining which types of pets the children own, if any, ask them what type of home their pets live in. Talk briefly about why different pets require different environments to live. For example, a fish must live in water to survive and a pet frog requires a special light over its tank to regulate its body temperature.
Sing a Song
After reading and discussing the story, lead the kids in a fun rendition of "How Much is That Doggie in the Window?" but make up your own verses to include other animals the kids call out. Below are the lyrics to the first verse.
How much is that doggy in the window? (ruff ruff)
The one with the waggly tail.
How much is that doggy in the window? (ruff ruff)
I do hope that doggy's for sale!
Continue the song by replacing 'doggy' with the names of other popular pets and the barking with a sound or action associated with the pet. Here are a few ideas to get you started. For snake, it might be "The one that slithers like so" (wiggle wiggle). For birdie, you might use "The one who's singing to me" (chirp chirp). Use your imagination. After the first few verses, the kids will catch on and be willing to think up some of their own.
Materials
Before teaching this lesson, create two sets of flash cards. On the first set, draw or glue pictures of familiar pets. On the second set, show pictures of environments in which the pets might live. A few possibilities might be a bird cage, dog house, barn, or fish bowl. Also, print the names of each animal and home on the cards.
Here are the materials you will need to make the flash cards:
Index cards
Crayons or markers
Photos or magazine clippings of pets and their homes (optional)
Glue (optional)
Lesson Procedure
Have the students take turns matching each pet with its home. Review the name of each animal and discuss the environment it lives in with the kids. Point out the beginning letter of the pet name and its home and ask for words that rhyme with each one.
The basis of this lesson can be expanded upon to use with other pet lessons plans for preschool as well. Creating additional sets of cards will be helpful in teaching kids about pet related topics such as matching baby animals with their parents and finding the correct types of food each animal eats.
Review the Lesson
Bring the students back into the meeting place and discuss what they've learned. Encourage them to share which of the pets are their favorites and why? Can the students identify all of the animals and their homes?
Extend the Lesson
Preschool children are sure to have plenty to share about their pets or favorite animals. Have the students draw a picture of their pets (or the ones they wish were their pets), including the animal's home in the drawing. Encourage students to bring in photos of any pets they have in their home.
This preschool pet lesson using Franklin the Turtle as a guide is sure to be a hit with students.
This post is part of the series: Preschoolers and Pets
This is a series of articles with lessons, crafts and activities to teach preschool children about pets. It includes science, math, music, literacy and art activities.