Preschool Science Center Ideas for Weather and Seasons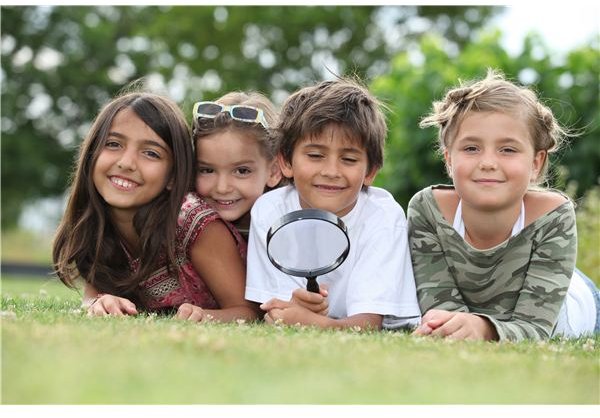 Preschool Science Center
Rotating items in learning centers maintains interest, but there are some things that make great permanent fixtures. Here are two
ideas to keep in your preschool science center all year long.
Weather Window - It is easy for us to not pay too much attention to the weather around us. A Weather Window is essentially a decorated frame made from poster board that your preschoolers look through to report the weather. If your science center is close to a window, just attach your Weather Window to the inside of the window frame. During circle time, choose a preschooler to check the weather and report it back to class. If you have access to an outside area you can include a thermometer and a rain gauge. For a daily charting activity, chart the weather by the week or month.
Science Tree - A great way to learn about seasons is to have a tree in your science center. Fill an empty planter half full with sand. Stick a tree limb with branches into the sand. Fill the planter with gravel. Decorate according to the season.
Summer - Tie green hand prints to branches for leaves.
Add insect crafts, such as grasshoppers and ladybugs, to branches and around the base of the tree.
Fall - Replace green hand prints with multi-colored hand prints for fall foliage.
Place pumpkin crafts, as well as miniature pumpkins, gourds, and Indian corn, around the tree.
Winter - Replace all leaves with cut paper snowflakes. Hang extra snowflakes from the ceiling.
Paint three miniature pumpkins white and glue them together to make a snowman. Display beside your tree.
Spring - Wrap the tips of the branches with green yarn or crepe paper.
Attach hand print butterflies to some of the branches. Hang extra butterflies from the ceiling.
A great chart that corresponds with your Science Tree is a 12 month pie chart. Label each section of the chart with a different month. Find a tree close to your class. Take a class picture in front of the tree each month and add the photo to the chart. By the end of the year you will have a wonderful record of how the seasons, and your preschoolers, have changed.
Extend
You can extend the fun and learning activities in your preschool science center with this terrific All About Me Science Garden lesson plan!