Great Resources and Books for Preschool Reading: Leveled Books

Leveled Reading and the Preschool Child
The concept of leveled reading is based on the premise that, even within a specific age group, reading ability is a spectrum of skills and behaviors. Leveled reading programs are designed to reinforce existing knowledge and nurture the development of new skills by introducing children to concepts, sounds, letters, words and structures at appropriate stages of their literary development.
But what kinds of books are appropriate for young children who don't yet know how to read? Literacy begins developing long before formal reading skills emerge. Reading aloud with children exposes them to elements such as rhyme and rhythm and builds vocabulary.
Reading aloud isn't the only way preschoolers can engage in the reading process. Leveled readers for preschool children are written to encourage independent exploration: Words are familiar, sentences are short and memorable, and the simple, colorful pictures tell a story. Many preschool level books focus on a specific theme or concept that is familiar to young children, such as animals or family. These books are designed to stimulate the imagination and encourage curiosity about words and reading.
Step One: Ready to Read

These leveled books for preschoolers from Random House feature large lettering and colorful pictures that will catch a child's eye. Rhyme and rhythm throughout the stories build phonological awareness and teaches new words. Level 1 of the Step Into Reading program is intended for preschool and kindergarten children who know the alphabet and are ready start learning to read. Stories are short and simple, with familiar characters such as the Berenstain Bears, Sesame Street regulars and Disney Princesses.
These readers are ideal for children who are familiar with or are becoming familiar with the letters of the alphabet and can be read aloud or explored independently. When reading aloud, teachers can build phonological awareness by drawing attention to rhyme and repetition. As children continue to explore these books independently, they will begin to recognize and remember certain sounds and words that have become familiar.
I Can Read!

The first level of the I Can Read! series from Harper Collins is designed for shared reading. These books feature large text and colorful pictures, as well as concepts and characters that are appealing to young readers because they are familiar. Events such as bath time, dinner time or riding in the car are explored in full sentences composed of short words. Books at this level are designed to increase phonological awareness by emphasizing target letters and the sounds they make. Titles such as "B is for Biscuit" and "W is for Woof!" are helpful in learning letters of the alphabet and their corresponding sounds.
These books also use a great deal of repetition to build familiarity with words that children will soon be able to recognize. Teachers should read these books during group time or one-on-one, pointing to words as they read. Doing so will help children become more aware of the text-to-sound nature of reading, and will even allow them to recognize high frequency words.
Reading A-Z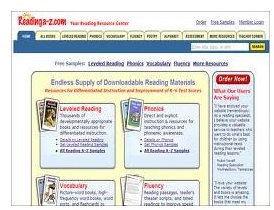 Reading A-Z.com is a comprehensive set of resources for teaching phonics, the alphabet, and reading at all levels from pre-K well into grade school. Site membership is not free, but registered users gain access to an incredible array of resources and materials, including printable leveled readers for preschoolers. Leveled Readers from Reading A-Z are designed to enforce symbol recognition and build phonological awareness. Books have many large pictures and a few short words and sentences as well as repetitive text. The website also features lesson plans and activity ideas for each title.
Reading A-Z has four different levels for emergent readers (starting with level aa up to and including level C) with dozens of titles in each level, offering teachers an exciting array of options to meet the specific needs of students. The first levels, aa-C, are specifically targeted toward young preschoolers and are designed for shared reading. These books feature strong picture support and very limited text on a page. The main goal of books at these levels is to help children become aware of the sound/symbol relationship and introduce them to phonological phenomena such as rhyme and alliteration. Levels A-C, while designated as early emergent readers, presuppose somewhat more advanced skills such as a strong grasp of the alphabet and the ability to recognize some high frequency words. Those leveled readers are ideal for older preschoolers or children who are more advanced.
Part of Your Toolbox
While there are many great stand-alone books for preschool-aged children, these preschool level books are specifically designed to nurture and develop literary skills and habits in the emergent reader. All of the leveled readers for preschool listed here are designed with the needs of young children in mind and aim to increase phonological awareness and build understanding of the sound/symbol relationship. They are helpful tools for an emergent literacy curriculum.
This post is part of the series: Emergent Literacy in the Preschool Classroom
What is emergent literacy, and what can teachers and other caregivers do to support and develop it? Learn the what, when, why, and how of early reading and writing with this helpful Bright Hub series.